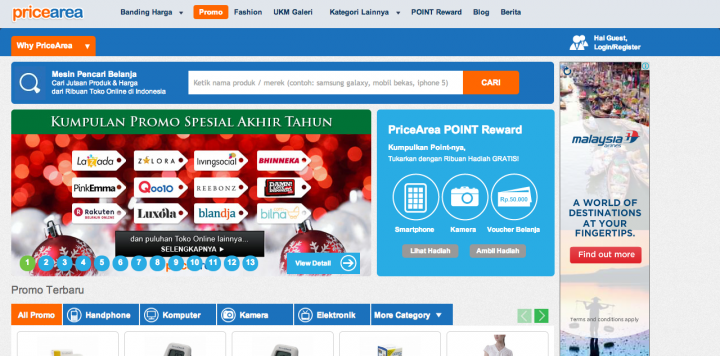 The product search engine and price comparison battle is one to look out for next year in Indonesia. There are a number of players vying for the top spot and PriceArea 1 is one of the sites to beat. The startup reveals to Tech in Asia that it has seen a total of 12.3 million visits this year, which means that the monthly visit average is about one million.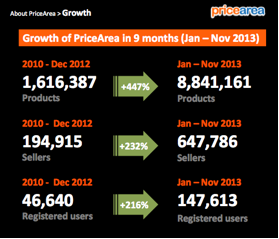 2013 has been an awesome year of growth for PriceArea, according to CEO Andry Suhaili. Currently the price comparison site has more than 8.8 million products listed from 647,000 online merchants from across Indonesia's e-commerce sites. PriceArea now has 147,000 registered users.
Promos, promos everywhere
PriceArea is rolling out its promotion aggregator feature today. As its name implies, this will help discount lovers and price-sensitive e-shoppers find the promotions available for the product they're looking for. If they're looking for a phone, for example, there's a tab whereby shoppers can look for the phone models currently on sale. The aggregated promotions cover discounts, clearance sales, installment payments, cashbacks, free shipping, shopping vouchers, coupon codes, and free prizes.

Right now PriceArea Promo has 4,464 promotional offers from 59 online merchants. Everybody loves promotions, whether they're found offline or online, including in Indonesia. The Indonesia's own "Cyber Monday" last week attests to that as many e-stores involved in the event reported that they saw huge increases in visitors and sales revenues during that annual event. PriceArea has set up a page to cover upcoming year-end promos which will focus on those offering over a 50 percent discount.
(Read: 7 startups in Indonesia that help you compare prices online)
PriceArea's biggest rival right now is Telunjuk. The latter startup revealed recently that it is on course to get one million monthly unique visitors with 980,000 products in its database. You can also see available promos on Telunjuk, but the team hasn't set up a dedicated feature for that.
Other rivals battling in the product search space are Rocket Internet's PricePanda, Thailand-based Priceza, Kakaku's PricePrice, IndoKatalog, and Pricebook.
(Editing by Steven Millward)
---
Disclosure: East Ventures invests in both PriceArea and Tech in Asia. See our ethics page for more information.