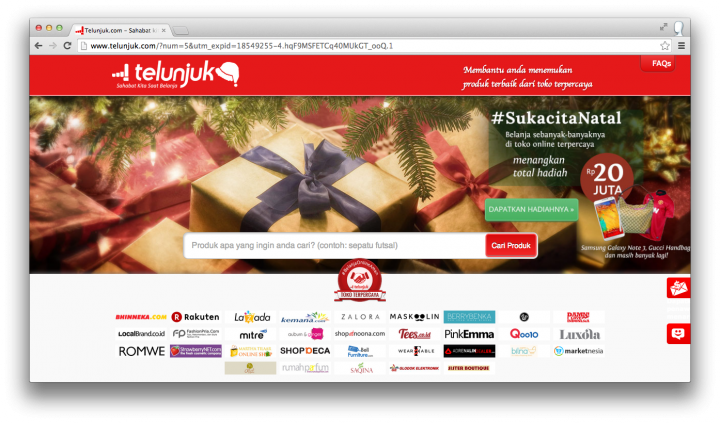 Indonesia's price comparison site Telunjuk is revealing today that the site now records close to one million unique visitors per month. Today the company holds about 980,000 products in its database and is paying close attention to its mobile users.
Co-founder Hanindia Narendrata Rahiesa (Drata for short) explains that its mobile users grew significantly this year, especially since July. Now 48 percent of Telunjuk's audience come from mobile devices, the majority of which use Android and the Opera Mini browser. This finding drove the team to develop and launch its Android app last week, as well as making sure the site looks good on mobile browsers.
Although Telunjuk houses 10 categories of online price searches – including sports accessories, furniture, and travel – nearly all of its traffic comes from searches related to gadgets and electronics (70 percent) and fashion and beauty items (25 percent).
(See also: 7 startups in Indonesia that help you compare prices online)
Educating people to shop online safely
Telunjuk is accompanied by lots of other startups in the price comparison sector in Indonesia. When asked about the team's strategy to beat the competition, Drata says that the startup builds close relationships with users and e-commerce merchants, and hopes to see the result of it in the coming months.
One of the ways Telunjuk builds its audience connection is by holding safe online shopping campaigns under the hashtag #BelanjaOnlineAman. Plus, web users can learn about how to shop online safely by reading Telunjuk's tips and information on the company's blog. According to Telunjuk's analysis, trust is still the main issue that people are still afraid of doing online shopping. Andry Suhaili from rival PriceArea said a similar thing during Startup Asia Jakarta 2013 recently.
Drata adds that Telunjuk is quite selective when appointing its e-commerce partners. Some of these selected partners are C2C marketplace sites like Qoo10 and Marketnesia. The Telunjuk team approach the e-stores with a mix of adding listings automatically or adding some manually after a screening process.
Telunjuk also comes up with incentives to get merchants and shoppers to use Telunjuk. During Christmas, users can earn points by shopping at Telunjuk's merchant partners. These points will then be used for lucky draws held later this month.
Drata says that Telunjuk is weighing up an expansion to other Southeast Asian countries, but declined to explain further.
Telunjuk's main rivals in Indonesia are PriceArea, Rocket Internet's PricePanda, Thailand-based Priceza, Kakaku's PricePrice, IndoKatalog, and Pricebook.
(Editing by Steven Millward)