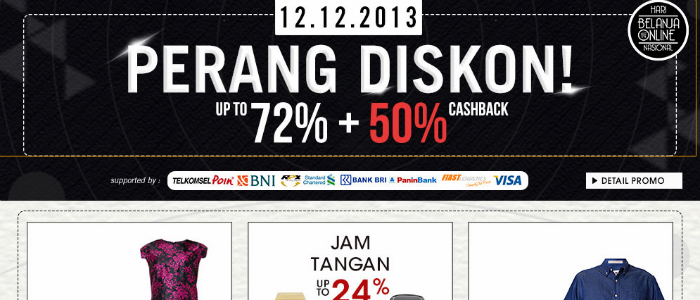 Approaching year's end, 22 online retailers in Indonesia are participating in the National Online Shopping Day 2013 — the country's answer to Cyber Monday. These e-stores are providing discounts and promos such as cashback up to 50 percent, vouchers, and other goodies. The country's biggest telco, Telkomsel, is taking it very seriously, co-operating with 18 online shopping sites to offer additional promos on top of the current discounts on those sites.
The offers are not available at offline merchants today, so this encourages Indonesian people to purchase things online – perhaps becoming first-time converts to e-shopping. Taking part today are
Lazada, Zalora, PinkEmma, BerryBenka, Bilna, Tiket.com, Reebonz, Traveloka, LivingSocial, Blandja,
DamnILoveIndonesia, Qraved, FoodPanda, Bobobobo, Luxola, Maskoolin, getScoop, ShopDeca, Lakupon, Sukamart, HijUp, and Hotel Quickly.
Indonesia's National Online Shopping Day was first held last year, initiated by Rocket Internet's Amazon-like site Lazada. Last year, Zalora, BerryBenka, Fazzione, Bilna, and DamnILoveIndonesia also took part.
Many online retailers expect a huge increase in their traffic from this year's 24-hour event. Iwan Tantra, the CEO of PinkEmma, said that last year's e-shopping day saw the site's online purchases happening at three times the usual rate. This year Iwan anticipates sales to be five times higher than on a normal day.
Online shopping in Indonesia is growing strongly, backed up by the region's growing middle class. China's own Cyber Monday last month saw one company bring in an astounding $5.7 billion in sales revenue in one day.
(Edited by Steven Millward and Enricko Lukman)