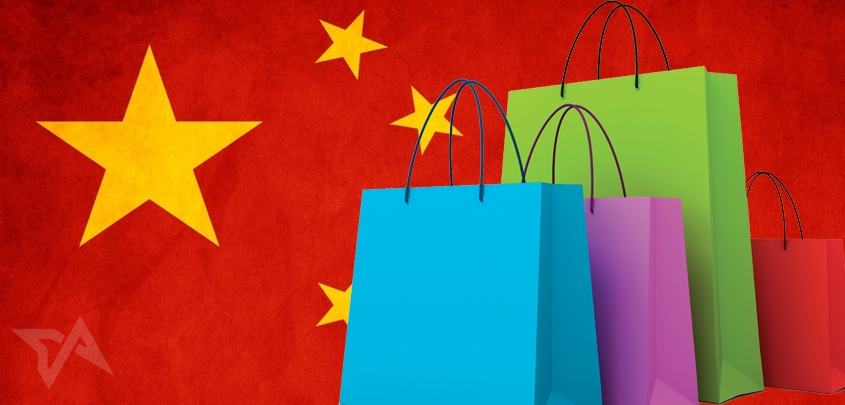 China's 11/11 online shopfest – the country's equivalent of America's Cyber Monday – has just finished. It's been a record-smashing mega-sale on hundreds of e-stores. Here at Alibaba HQ, the makers of China's top online marketplaces are celebrating the biggest-ever shopping day: a grand total of $5.7 billion (RMB 35.02 billion) spent in the course of just 24 hours.
(Update: Total unique visitors on Tmall on this 11/11 hit 402 million, up from 213 million on the same day last year). The sales on Alibaba's Tmall involved over 20,000 merchants on its online marketplace. That massive $5.7 billion figure counts only Tmall and Taobao customers who paid via the company's own Alipay (like Paypal), so the total spending amount will be higher once all payment methods are totaled up. The most popular store on Tmall all day was the official shop of Xiaomi, China's upstart phone-maker.
As we noted earlier today, it was clear in the morning that all records would be smashed on Alibaba's e-store. By midday, Tmall had already processed $2.86 billion (RMB 17.5 billion). Remember that America's Cyber Monday saw US netizens spent a total of $1.46 billion online in one day in late November 2012.
Speaking earlier this evening to a hall full of reporters at Alibaba's HQ, founder and chairman Jack Ma (pictured below) said, "This year's 11/11 figure, whether it's 30 or 35 billion [RMB], will still be a shock to business owners. Now, a lot of malls have more staff than customers. […] Web shopping [will cause] local retail prices to come down, and then there'll be price adjustment in the Chinese market."
Growth across China's e-commerce scene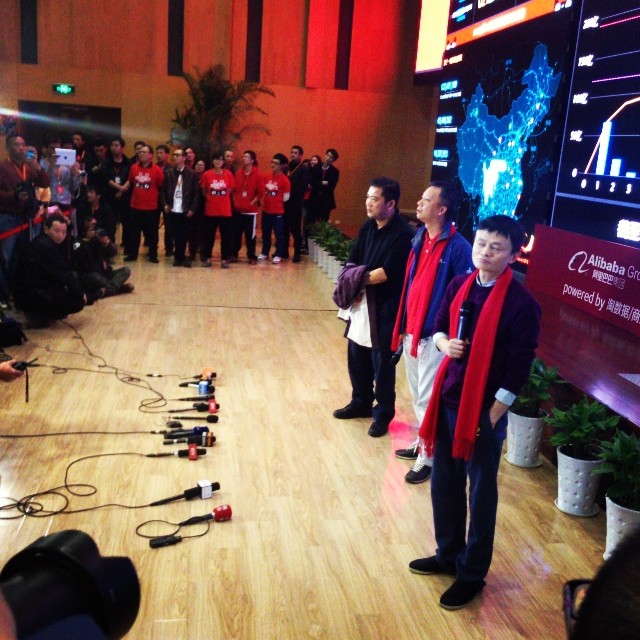 The closest rival to Tmall is Jingdong (formerly known as 360Buy). While Jingdong declined to reveal specific numbers (and also didn't set up a floor-to-ceiling, multi-display 'big data' situation room), Gloria Li, the senior VP of public relations, explained to Tech in Asia:
Sales of items like shoes are through the roof. We're seeing 1,000 percent increases in Asics and Li Ning and more than a 5,500 percent increase in New Balance. in 3C [electronics] products we are seeing skyrocketing numbers – we are on pace to sell a computer every second of November 11.
Meanwhile, Tencent, the maker of WeChat, is also seeing booming numbers on its e-commerce business. Tencent said earlier this evening that it expects 51Buy to see a record $58.7 to $65.3 million in sales in the 24-hour period.
Tmall sees more global sales
Though most of the spending came from consumers in mainland China, Alibaba also revealed that it saw over $35 million in sales on Tmall on 11/11 in Hong Kong, Macau, Taiwan, and all other areas outside of mainland China. The Chinese diaspora in America was the second largest overseas group of buyers, behind Hong Kongers. The Tmall site began opening up to some overseas users earlier this year.
(Editing by Paul Bischoff)