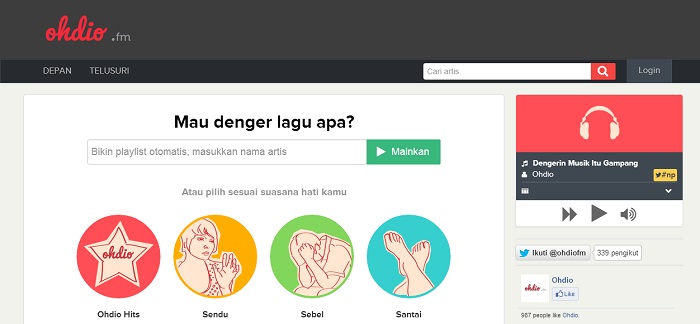 Today, Ohdio.fm, an Indonesian music-streaming site, has launched Radio Artis (meaning "artist's radio").
With this new feature, listeners don't have to spend their time downloading the song from their favourite local artist. You just have to type the singer's name, and a playlist will be generated automatically with his/her song collection, as well as additional songs from artists within the same genre. The new radio feature works in both desktop and mobile browsers.
Beside the Radio Artis feature, users can also choose playlists based on their mood, such as "energized," "stressed," or "sleepy."
Yoga Nandiwardhana, the CEO of Ohdio.fm declined to disclose the number of users and playlists since the startup's relaunch and rebrand from the 'Ohdio' name. He says, "as for our catalog, we sure have more than enough songs to accompany your daily activities, as you can select using our mood selector or browse the predefined playlists."
Listen to Ohdio.fm online on desktop or mobile.
Disclosure: East Ventures is an investor in both Tech in Asia and Ohdio.fm. Please see our ethics statement for more information.
(Editing by Paul Bischoff, Steven Millward and Josh Horwitz)