GREE (TYO: 3632), the Japanese internet services company best known for its games, revealed a new hotel booking service today. Known as Tonight, the mobile app available for both iPhone and Android. Tonight promises to make reserving hotel rooms a ten second task, placing GREE in competition with popular startups like Hotel Quickly and Hotel Tonight, which are becoming increasingly popular.
At launch, the service is limited to Tokyo and has about 130 hotels registered. This represents about 20% of the Tokyo hotels registered with the popular Japanese travel site Jalan. GREE maintains that the remainder will join the network by the end of the year.
See: Preparing for Startup Asia Tokyo: Where to sleep, eat, and stay connected
After taking the app out for test drive, we find it promising but somewhat limited. The design is smooth; hotel prices show up on the Tokyo map and the images of the rooms and amenities are crisp. However, the app might not be user-friendly for visitors to Tokyo. With no search function, users are left journeying through the app's map to find their desired destination. Further, since there are no basic categories like price, location, and reviews, users are unable to comparison shop.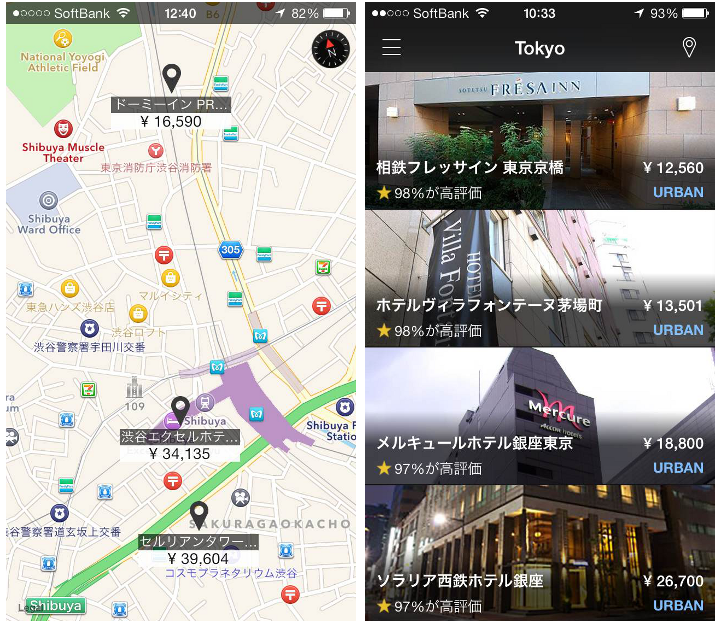 Almost a year has passed since GREE's cost-cutting moves started to impact its Japan operations. "Tonight" marks a new attempt to diversify its revenue stream and reduce dependency on the fickle gaming market. It could be an indication that GREE is ready to rethink its core strategy of creating offshoot verticals, like physical gaming cards, from its social gaming business.