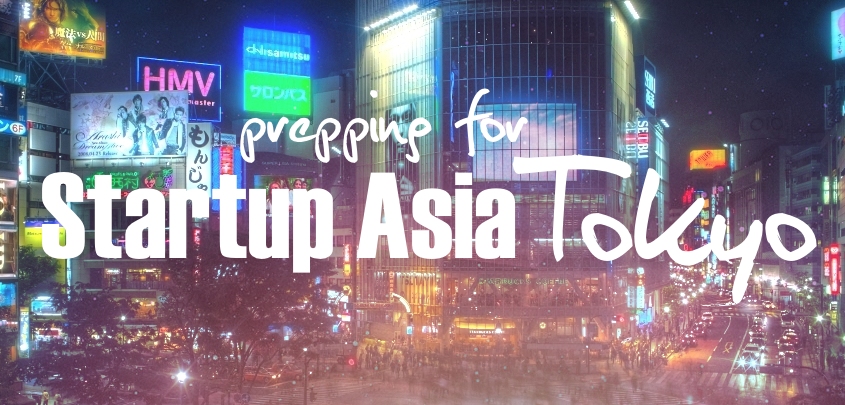 It's a bit unconventional for a first Tech in Asia guest post to be about navigating a city, but when Willis mentioned bringing Startup Asia to Tokyo in September, I knew I had to put this together.
Tokyo is many wonderful things. An English speaking country it is not (sadly). Since moving to Tokyo, I've had friends, acquaintances, and even friends-of-friends reaching out for guidance. I get it. I dealt with a lot of the same challenges too. Now, I would like to pay forward the kindness of many strangers who helped me.
Accommodation
If you are planning to attend Startup Asia Tokyo, book your hotels now. Recommendation: Booking.com — yes, Booking.com. I never used it in the States, but for those with 1. European and Asian IP addresses and 2. European and Asian credit cards, Booking.com is the best option.
Since the venue is located in super central Shibuya, stay in Shibuya. If you book now, hotels from September 2 to 5 are under US$500 — total. See examples here. Hurry, because the most reasonable ones are almost sold out.
Note: Shinjuku is another possibility but I don't recommend it to any of my friends. Shinjuku is a bigger neighborhood than Shibuya — and not as convenient as Shibuya.
Wi-fi and SIM situation
I cannot stress enough how important it is to rent a pocket wi-fi. Japan has this futuristic image of robots and lasers and all things fast and shiny. But let me put it this way: the Japanese government just announced a partnership with Japan's largest telco, NTT, to bring free wi-fi for visitors after "a survey showed 24 percent of foreign visitors complained about the difficulty of accessing wi-fi in Japan". The service will launch in 2016. Well. At least this country will be connected for the Olympics.
McDonald's and Starbucks offer free wi-fi. But in order to access their networks, you need an account. In order to sign-up for an account, you need connectivity… chicken-egg. But more challenging is the sign-up process is usually in Japanese.
I am close to certain the Startup Asia venue will offer free wi-fi. You may be able to get by relying on the venue and hotel wi-fi (if they offer it — I kid you not, some hotels don't have wi-fi, only LAN) but I highly advise against the risk. Tokyo was purposely built with twists and turns (it's a historical thing that ties into samurai and ninja days). You will get lost. More than once. But it's okay. Everyone does.
I recommend everyone to rent a SIM to pick up at the airport (Narita or Haneda, I'm assuming). Softbank has rental SIM booths there and the rates are reasonable. Rental wi-fi is only available for visitors, so it's super inconvenient to rent a SIM once you are in the city. Just do that at the airport. There's actually only one Softbank rental office in all of Tokyo. It's in some random office building that you won't be able to find or access (because of security) – unless you are Japanese.
Softbank's rental website in English is here.
Food recommendations
Okay. This is the big one. People always ask for food recommendations and I always say the same thing. I have zero recommendations. Really, I don't.
Tokyo is massive. Every neighborhood has restaurants, cafes and bars stacked on top of each other. There are even basement and B2 levels of more restaurants, cafe and bars. I can eat out in my neighborhood every single night for the rest of my life, and I still wouldn't cover all the restaurants in my neighborhood — the food industry is really that robust here.
What I do tell everyone is: use the heck out of Foursquare.
If you're not on Foursquare, Tokyo is a great place to try it out. I follow a bunch of lists to discover new restaurants. Foursquare tips are also extremely useful in Japan, since a lot of menus are Japanese only, and people leave tips on what/how to order.
Foursquare lists are accessible on your computer here. Two example lists: Michelin guide and one more.
Other useful links
That should just about cover it. If you have any more questions, do please leave a comment. See you all in Tokyo!
Editor's plug: Have you gotten your Startup Asia Tokyo 2014 tickets? If not, you can use the <TECHINASIA> code to enjoy 15 percent off all ticket prices. Register today!