Shortly after this weekend's earthquake near the Chinese city of Ya'an in Sichuan province, which has so far claimed nearly 200 lives with many more still missing, a number of leading web companies rushed to help with the disaster response by setting up online 'people finder' message boards.
Here are the five main online resources:
This is a well-known site in such an emergency, with buttons for "I'm looking for someone" and "I have information about someone". Google's dedicated Sichuan quake boards currently have 1,100 records, though it's not clear how many of those are made up of people looking for missing folks, or actual bits of information about a lost/found individual. The Google site is also nice enough to link to several resources from other web companies, such as the ones listed here.
Baidu's Wikipedia-esque Zhidao site now has a dedicated messaging board for the quake-hit area. In contrast to Google's more closed-off (privacy-oriented?) Person Finder, the Baidu boards are open to anyone to read through.
Qihoo's board emphasizes the names of missing folks in very large type, making it easy to browse through.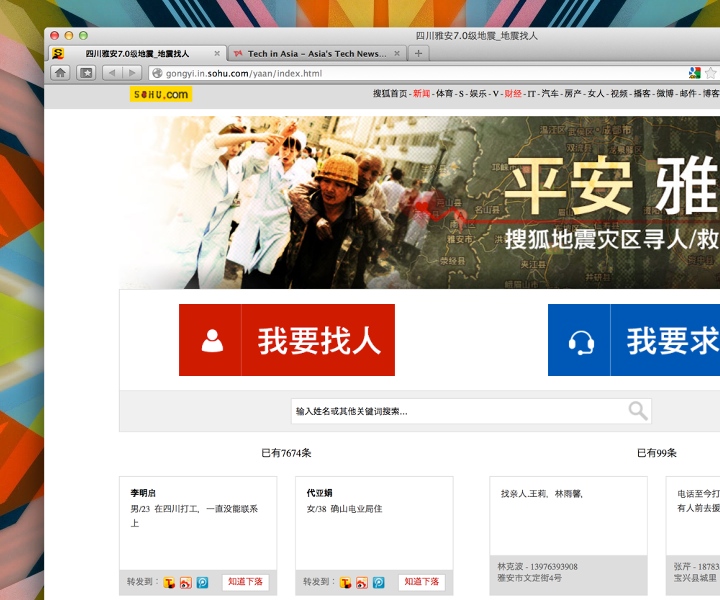 Major web portal Sohu has a Google Person Finder-like site (pictured above) split into "want to find" and "want to help" buttons. It also features an open board with Pinterest-style notes for each person being sought. So far, over 7,600 'missing' posts have been made, but many could be duplicate names.
State-run search engine Panguso has had the sense to make this site mobile-friendly, as many people will be turning to their smartphones or feature phones and using 2G or 3G in an area where many buildings and internet lines have been destroyed, or where electricity has not yet been restored.
---
Earlier today we saw smartphone rivals Apple and Samsung both make sizable donations to post-quake relief efforts. Social sites like Sina Weibo and the messaging app WeChat (known as Weixin in China) are also playing a part as people in the affected area use lots of web and mobile resources to communicate or find information.
Follow the updates on the China Daily live blog.