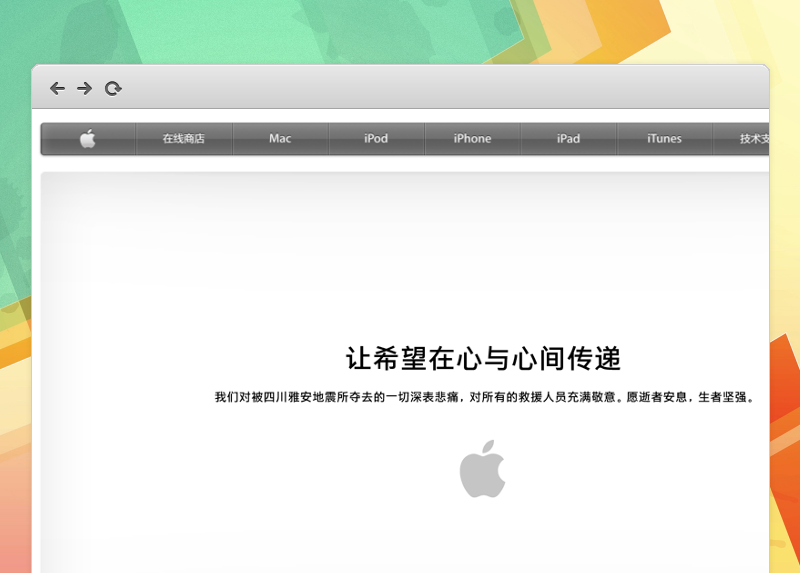 A powerful earthquake struck the city of Ya'an in Sichuan province over the weekend, not too far from the site of the larger and even more catastrophic quake in 2008. Now, with rescue teams already on site, it's time for donations to flood in to help sustain survivors and rebuild the area. Tech companies are keen to be philanthropic too. Apple (NASDAQ:AAPL) has pledged RMB 50 million (US$8 million) this morning for the Chinese victims; and rival gadget-maker Samsung (005930:KS) had earlier vowed to donate RMB 60 million ($9.63 million).
Apple pledged its quake relief funds via public relations channels, while Samsung rather more effectively posted its offering on the Samsung China official Sina Weibo page. The Weibo post came with a statement from Samsung China president Zhang Yuanji who said, "Samsung China is always with the Chinese people through thick and thin, to tide over the difficulties." Plus, local media reports that Samsung has set up ad-hoc free phone repair centers in the affected quake zone.
Apple has a memorial image for the quake victims on its homepage right now (pictured above). According to Sina Tech, the Cupertino company released a statement that also pledged new gadgets for quake-hit schools:
At this difficult time, our hearts are with the victims of the Sichuan earthquake. Aside from the cash donation to help the affected people to tide over their difficulties, we are committed to providing new Apple devices to schools in the disaster area, and Apple employees in the locality are on stand-by at any time to help.
With Apple under pressure in China in the past couple of months – state-run media last week claimed that 60 percent of Chinese consumers now think less of Apple than they did previously – the company will be privately hoping to make no mis-steps with this pledge.
China has about 85 million active iOS users, and 160 million on Android. Since Samsung is the preferred brand of Chinese Android buyers, the Korean company and Apple are quite closely matched in terms of smartphone sales in the country. Samsung sold 30 million smartphones in China alone in 2012. The great rivalry between the two – in stores as well as courtrooms – will inevitably lead to comparisons of the amount donated by each. But, hey, they made sizable charitable donations, and there are biggers issues in Sichuan right now – such as the nearly 200 dead and the very many still missing.
(Sources: Sina Tech (1) and (2); Hat-tip to reader @Geoffrey_Wu for tipping us)