In an e-commerce market as huge as Vietnam's with over 30 big e-commerce players and hundreds of smaller players, logistics and collecting payments are big problems. That's why Giao Hang Nhanh (GHN), which means "Fast Delivery", an e-commerce delivery and logistics business, has risen out of this teeming gang of online shops. As far as e-commerce delivery goes, GHN is the first company that comes to mind for most Vietnamese e-merchants. GHN does two things really well: delivery and payment.
I interviewed GHN's CEO Luong Duy Hoai, to get the scoop on how GHN is doing and what's up next. The service they offer is quite complex but it solves so many problems at once that it's worth looking really closely at the model. But first, some numbers.
GHN currently serves over 800 online merchants, over 20 of those merchants are larger scale B2C e-commerce sites like Tiki.vn, Project Lana, MuaFast, Nha Sach Phuong Nam, and Foci, to name a few. Most of GHN's merchant base comes out of the group buying industry. So far, GHN has delivered over 60,000 orders since its founding early last year, and has 60 staff at last count. Currently, GHN handles over 1.5 billion VND (over $70,000) of transactions per week for its clients and has over 200 million VND ($9,500) of revenue per month.
For merchants, GHN offers three things:
2 to 3 day delivery for 10,000 VND ($0.50)
Next-day delivery for 15,000 VND ($0.70)
Same-day delivery for 20,000 VND ($1.00)
All these delivery times can be requested from the merchant or customer side. GHN takes orders from multiple merchants, synthesizes them into manageable routes via an internal logistical system and gets them to the specified customers on time via its own fleet of delivery men.
How can a company that serves over 800 merchants, and delivers to 600 to 700 people daily, guarantee anything under 3 days delivery? It's GHN's sophisticated logistical system. Currently, e-commerce sites in Vietnam who are not using GHN generally deliver their coupons and goods four days to a week from the initial purchase online.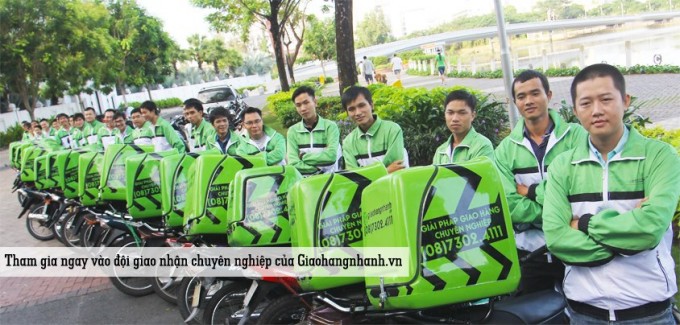 The logistical infrastructure at work
At first, GHN hired coordinators to develop routes for their trained motorbike delivery guys. These guys would look at routes and orders and plan out the delivery routes for delivery men. But, according to Hoai:
The goal was always to optimize process through technology. We now have coordinators, but our system, now automates 60 percent of all the decisions. Coordinators are freed up to work on other problems. The system plans the route, catalogs the transactions, and keeps track of all the deliveries. In the beginning, we had 10 or 20 deliveries per day, that was easy for one person to organize. Now we have over 500, it's impossible for one person to organize all that. Our system handles it all.
GHN's biggest competitive advantage is this system. And there are basically three key solutions that GHN brings to the market:
The automated decision and route planner as described above.
An API and dashboard that allows any customer to upload orders and track them. Orders can currently be uploaded to GHN's server by calling directly to customer service (ideal for low-tech small businesses), accessed via the dashboard, and uploading an excel file into the system. Basically, they've made it really easy for merchants to submit orders and have them delivered automatically according to their time preference.
A payment collection system that prevents delivery men from bamboozling the system and running off with the money or products. Delivery men must travel back to GHN's cashier hubs (there are four in the Ho Chi Minh city) three times a day to return money received and get new delivery orders from the system. If delivery men do not return, the system locks them out, and does not issue out further routes or delivery protocols. All money collected is returned to merchants Monday, Wednesday, and Friday of every week.
In the GHN dashboard all merchants have to do is submit their orders and GHN takes care of the rest. Merchants can even set delivery times to six months ahead and track exactly when customers received their orders. The system even sends SMS texts to customers when a delivery man has received a delivery, thus letting them know that an order is on its way within hours.
The problems GHN solves
GHN gives e-commerce sites that use its service an edge – they'll get their coupons or products into customer hands much faster than anybody else – but it also hits at a key chord in Vietnamese e-commerce. As Hoai says:
E-commerce is in a very early stage in Vietnam. Buyers and sellers don't trust each other yet. And warehouses, sales channels, infrastructures, and delivery systems are still underdeveloped. Our goal is to build a trust-building service for e-commerce that can scale very big and bring Vietnam into the next level of e-commerce within the next five years. We do this with our sophisticated tracking system and rigorously training our delivery men in customer service.
E-commerce is the new bastion of Vietnam's young population. Many people who don't have a job in the trying Vietnamese economy look to e-commerce as an easy solution where you don't need to set up a physical shop, just a website. And now with GHN around, you don't even need an in-house delivery guy/team.
What's next?
Currently, the company is expanding its merchant-base and Hoai expects to be handling over 1,500 deliveries per day by the end of this month. Many people in the startup community have speculated that GHN will get into the e-commerce business itself because of its infrastructure but Hoai is adamant not it's sticking to its area:
Actually, we've gotten a few offers to be bought by several e-commerce players in Vietnam, but we refused them. We're focused very specifically on delivery and don't want to get acquired by any partners. If we did, we would alienate all of our other merchants. This wouldn't make sense from a business perspective.
Currently, Giao Hang Nhanh is not profitable yet, but the more scale the company handles, the closer it approaches profitability. And with the strong value-adding system GHN has created, that's likely to happen this year.