In the first two parts of this Vietnam e-commerce series, I looked at the obstacles, and then the potential. So now let's look at the players.
This list contains some of the major companies, but I think there are even more prepping a launch of something new by mid-year. Since the online landscape is fragmented, it would be easy for young startups to jump into the mix and grab a piece of pie before everybody else grabs a bit.
I've divided the 28 companies below into four main categories: daily deals (aka: group buying), general e-commerce, vertical/specialist e-commerce, and customer-to-customer (C2C) selling. Daily deals are believed by some to be on the out following the debacle with Nhom Mua and declining consumer trust in coupons, while general e-commerce has shown steady growth and vertical e-commerce is an incoming trend.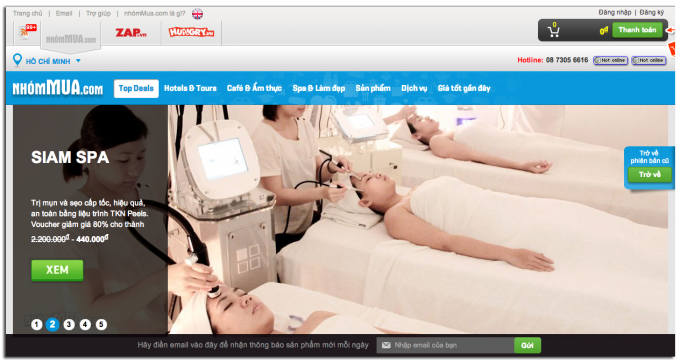 Daily Deals
1. Nhom Mua
The former king of group buying, Nhom Mua (literally "Group Buy"), went through some recent management and investor struggles but braved the storm and the website is back online. The damage has been done though, and consumers are skeptical of the site. The drama has been the biggest gossip in the technology community in the country.
2. HotDeal
Emerging from the success of Vinabook.com, Vietnam's leading online bookstore, HotDeal comes from the same team. It sells coupons for everything from men's socks to Android tablets.
3. Mua Chung
Literally named "Buy Together", Mua Chung serves up all general coupons as well as gives some special attention to tourism products and services.
4. Cung Mua
Cung Mua services all major and minor cities in Vietnam for electronics, tourism, fashion, education, and even food.
5. Cuc Re
Founded in Hanoi, Vietnam's capital, Cuc Re (literally "Extremely Cheap") sells the usual retail products you'd find in a supermarket, plus a range of travel deals.
6. Ru Nhau
Literally "Invite Each Other", Ru Nhau is yet another deals service, which includes tourism, food, retail products, fashion, and household supplies.
7. Chon Deal
A relatively well organized but run-of-the-mill deal site by the name of Chon Deal, or "Choose A Deal." They basically have all the same stuff everybody else has.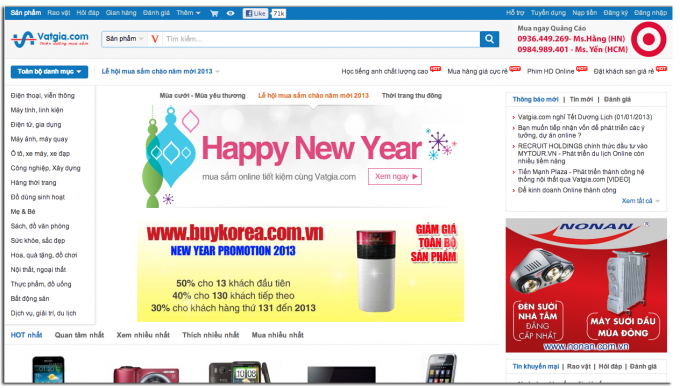 General E-Commerce
With the many Groupon clones above, the trend of selling everything under the sun extends into general (B2C) e-commerce sites. Coupons aren't enough, and online startups want to have warehouses.
8. Vat Gia
Self-proclaimed as the number one e-commerce site in Vietnam and carrying everything from motorbikes to computers, real estate to toys, furniture to tourism. Given this list, it seems Vat Gia is intent on providing everything a person could want and more.
9. Lazada
With branches already opened in nearby Indonesia and a few other nations, Rocket Internet's Asia-oriented Amazon clone Lazada has been forking out the marketing dollars to take Vietnam by storm. With a growing inventory and fast growth, it's well on its way.
10. Tiki
Tiki.vn started out as an online bookstore, and originally targeted consumers who wanted to buy English books. But it quickly found a large market of consumers hungry for Vietnamese books. Since then it has expanded into general e-commerce while sticking to its core book business.
11. Solo
Leveraging the strength of its marketing dollars and incumbent e-commerce status, VC Corp has launched Solo, another player in the general e-commerce space.
12. En Bac
If you're looking for fashion, jewelry, furniture, electronics, cars, or real estate En Bac is the place to go. It has an oddly diverse assortment of products.
13. Cho Dien Tu
Formerly Ebay.vn, Cho Dien Tu focuses mainly on fashion products and electronics.
14. 1 Top
Like the afore-mentioned Cho Dien Tu, 1 Top focuses mainly on fashion and electronics. Clearly, these are seen by e-commerce sites and venture capitalists as scalable hot markets.
15. 123.vn
123.vn is yet another e-tailer focusing mainly on electronics and fashion.
16. Nava
Nava probably has the most diverse inventory offering among all the general e-commerce players.
17. Mua Fast
Mua Fast, meaning "Buy Fast", is an online marketplace for shops to post their products.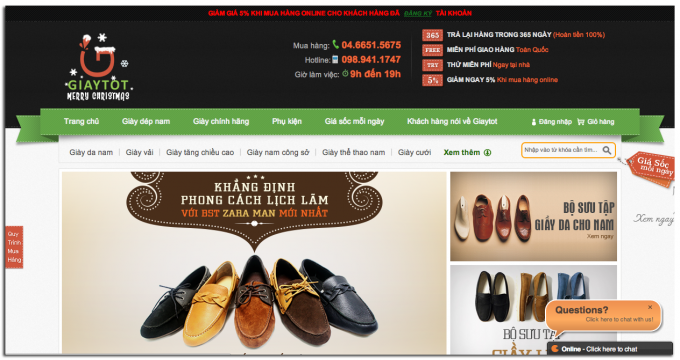 Vertical E-Commerce
With all of these general e-commerce sites moving into multiple markets at the same time, I predict that they'll be cannabilizing each other's markets. They all want to be Amazon, but they're all the same! There are no real differentiators. That's why I welcome these mostly new and very specialist players in the 'e-tail' space who have a very specific market in mind.
18. Hula
Although Hula may be suffering from consumers' thirst for broader e-commerce sites, it's still sticking to its fashion focus, mainly selling T-shirts for men and women.
19. Project Lana
Currently, Project Lana is an umbrella organization hosting three main websites with the purpose of "delivering happiness to women":
Web Tre Tho, a forum for women to come and chat about everything that is important to them.
Lam Dieu, an e-commerce website that supplies everything a woman needs from perfume to new fashion items.
Be Yeu, a website dedicated to pregnant women and mothers.
20. Liu Lo
Liu Lo is dedicated to everything related to children. If you're a father or mother, you can find food, nutritional supplies, toys, medicine, cradles, and all things associated with raising your children.
21. Vinabook
The leading online bookstore in Vietnam, Vinabook has maintained its position as a relatively serious site for book enthusiasts. In contrast, competitor Tiki.vn aims at a younger audience in its brand marketing.
22. Giay Tot
Giay Tot means "Good Shoes", so it's pretty obvious that it sells footwear. Giay Tot is currently the only online company in this specific space.
23. Noyyo
Noyyo is the first of its kind as a lingerie e-tailer. And yes, they do have underwear for men too, in case you were wondering.
24. Sendo.vn
Another fashion oriented site, Sendo.vn focuses mainly on fashion products for men, women, mothers and general beauty products.
25. Zalora.vn
Just like its twin in Indonesia, Zalora.vn focuses on clothing.
Customer-to-Customer
With business-to-customer (B2C) e-commerce sites doing increasingly well, customer-to-customer sites are being threatened.
26. 5 Giay
Still the leading customer-to-customer site, and one of the leading online retailers in general, 5 Giay is a rather messy but very crowded forum where people can sell anything. This suits a consumer market that is still – for now – predominantly on forums.
27. Rong Bay
Rong Bay takes a Craigslist-like approach to C2C, it has been around since 2006 so its user-base is quite big.
28. Mua Ban
Copying the look and feel of eBay, Mua Ban provides a safe space for small- to medium-sized retailers to get their products to customers.
The E-Commerce Battle of 2013
With all of these companies intent on becoming the Amazon of Vietnam, 2013 will certainly be an exciting year in this space. I'm personally looking forward to more vertical e-commerce sites which can specialize. General e-commerce sites are going to kill themselves off if customers start asking questions like "Where can I get nice shoes online?" and the first answer is Giay Tot, the number one shoe distributor.
What we also have to remember when looking at Vietnam's (and Southeast Asia's) e-commerce growth, is that it took Amazon nine years to finally turn a profit and Jeff Bezos is a man who Harvard declared as one of the world's best executives. This means the CEOs of e-commerce sites have to be ready for a long road to profit, which will require them to constantly out-think their competition.
If I've missed any sites, please let me know in the comments!
EDIT: Following suggestions from friends, colleagues and commenters, we have added Zalora, Sendo.vn, and changed the status of Mua Fast from a group buying site to an online marketplace.