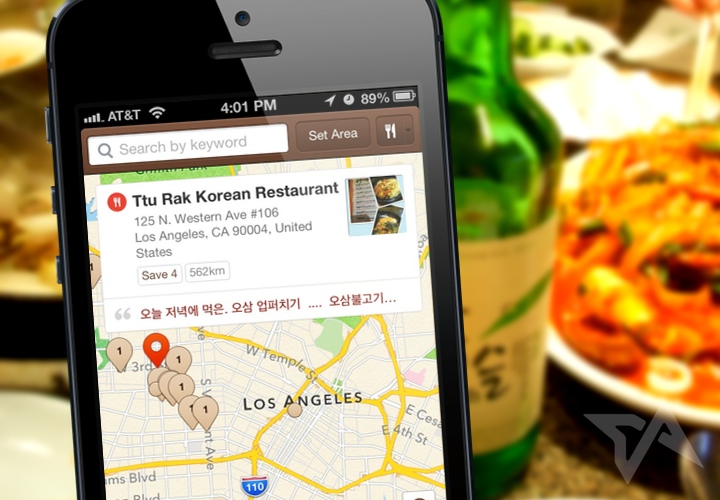 In keeping with my theme of diaspora studies using Asia-made messaging apps, today I'm venturing into Korean territory with KakaoPlace (pictured above), a complementary service to the popular KakaoTalk messaging app.
Per chance, imagine that you have a serious craving for Korean cuisine – but don't know which local eatery would best appease your desire. Perhaps you'd employ Yelp, Foursquare, or even Singapore-made Burpple. Although each of these would be a suitable choice, only KakaoPlace can provide culinary recommendations and reviews directly from a current user-base of nearby Korean nationals. And it works wherever its Korean users are – even here in the US.
Show me the bulgogi
Looking at a recommendations map for Los Angeles, California, for instance, there were about 20 "saved" (i.e. recommended) restaurants nearby. However, one restaurant rose above the rest, with multiple recommendations: Ttu Rak Korean restaurant. Considering KakaoPlace's overwhelmingly Korean user-base, it would likely be safe to bet on that place as an authentic (and delicious) Korean meal. In fact, I'll be saving Ttu Rak to the app's wish list for my next visit to LA.
Though I've filtered results to 'restaurants only' for the purposes of this article, KakaoPlace shows recommendations and reviews of hotels, bars, spas, shopping centers, and a variety of other points of interest. There are also social networking features, such as a feed which displays friends' latest recommendations and reviews. The interface is entirely in English on my phone, but many of the reviews are, understandably, in Korean. Still, an establishment's accumulated recommendations are expressed numerically, which allows global users to easily jump into the fray.
Due to the Korea-centric user-base, however, there are many global locations lacking any recommendations at all, and KakaoPlace only achieves a high level of adoption in its home market of South Korea. In Seoul, for instance, recommendations for several restaurants numbered in the thousands, along with hundreds of written reviews – but the most highly ranked foreign establishment I could find (out of all categories) was in Tokyo in the form of the Sotetsu Fresa Inn, with 54 recommendations and two written reviews. Yet, with the aforementioned English-language interface, I can't help but wonder if KakaoPlace's future trajectory is intertwined with KakaoTalk's global goals.
KakaoPlace app supports English and Korean, but most of the content is in Korean. It's available for iOS and Android.
(Editing by Steven Millward)