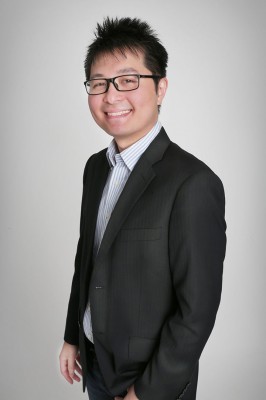 Jason Lamuda (pictured right) is one of those people who rarely goes to networking events in Indonesia, but everybody knows him for the successful ventures he co-founded: daily deals site Disdus, which was acquired by Groupon in 2011, and the female fashion ecommerce site BerryBenka 1 which successfully raised its series B funding round late last year.
Lamuda was one of many Indonesians who fled his home due to the riots in 1998. He continued his studies in Singapore and then followed in the footsteps of his brothers to study abroad in the US.
Lamuda took courses in chemical engineering at Purdue University because according to his research, chemical engineering graduates tend to have good salaries. He hadn't thought about running his own business at the time.
During his time in the US he grew amazed at how technology was helping shape people's lives. He used internet services like Amazon regularly. Lamuda was also impressed with the people who created these life-changing companies. "The founders were people of various backgrounds; whether they were rich or poor, or did not understand tech that much, but they could make it and change the world for the better," says Lamuda.
It is from this experience that Lamuda developed an eagerness to start something in the tech industry on his own. He completed a financial engineering masters program at Columbia University in 2008, which got him two job offers: one on Wall Street in the US and one at McKinsey in Indonesia. Believing that there would be bigger opportunities for his entrepreneurial dreams back home, he chose the latter.
Failing his first startup
Lamuda spent two years working at McKinsey Indonesia before he felt it was time to move on. "The competition in the tech industry in the US was very tough, [but] when I got back to Indonesia, internet was still very new here."
He persuaded his university buddy Ferry Tenka, who was at the time working in the US, to go back to Indonesia and start something with him. As a sign of commitment, both quit their jobs and dedicated a time span of two to three years to test their startup chops. "If it didn't pay off, then we could still go back and get a job."
Equipped with nothing but eagerness to start an internet business, both guys signed up for a crash course in programming. "Neither of us understood how to build a website," said Lamuda smiling. They managed to get a general understanding of programming, but decided that they were still not skilled enough to build something on their own.
The duo's first idea was Citzel, a location based service inspired by Foursquare and Yelp. How did the duo manage to build that? By hiring the same lecturer that taught them HTML in the crash course.
The service ran for six months but it did not get good traction from users. "Originally we wanted to do either a Citzel or Disdus business model, we decided to go with Citzel because it looked more fun back then."
Citzel's monetizing scheme relied on businesses and retailers shelling out for advertising on the platform. Thanks to Citzel, the team managed to build a strong merchant database during its brief lifespan. The database would prove to be useful when the duo decided to "pivot" and change their business model to daily deals with Disdus. The site launched in August 2010.
Getting acquired in just 6 months

The duo would then go to merchant stores one by one to present their daily deals idea. Lamuda and Tenka had previously pitched Citzel to East Ventures (EV) and got passed on, but the VC believed in Disdus. EV made an investment just three months after the launch in November. They received mentorship from the EV team as well as from Andrew Darwis, the founder of Kaskus – the nation's biggest online forum.
Then the pace began to pick up. Disdus started conversing with Groupon in February and clinched a deal in April. Previously, Lamuda and Tenka learned everything by themselves – how to strike deals and make money, and how to advertise online – but thanks to Groupon and its weekly phone call meetings, now they could get more guidance on how to run a world-class online business.
After one-and-a-half years at Groupon Indonesia, the duo then left to embark on ecommerce domination in Indonesia. Lamuda joined BerryBenka, a business started by his girlfriend (now his wife) Claudia Widjaja while Tenka would start baby ecommerce site Bilna. They both hold stakes in each other's companies and work from offices in the exact same location. They're also both funded by East Ventures
(See: Berrybenka wants to be the ASOS of Indonesia, talks about recent investment)
More room for entrepreneurs in Indonesia
Is there still room for newcomers in Indonesia's internet space? Lamuda says yes.
"There's always room to target different markets and people even if you have similar products," he notes. "Even niche businesses like selling coffee can still succeed. There are definitely markets out there and you can be successful in your industry. Your level of success may not be as big as ecommerce sites like Amazon, which sells everything, but you can still make some money."
Lamuda adds that entrepreneurs ought to carefully consider the industries that they enter before jumping in.
"Whenever I choose which business I want to go in, I always look at two things. First, who are the current players, and second, what can I offer that's different for users. I don't do much extensive research about market size, I just find the general overview of the market and just start from there," explains Lamuda.
"Indonesia's internet market is still very young. The current billionaires listed on magazines like Forbes are those who run traditional businesses like mining and oil and gas. There is ample room for future internet billionaires in Indonesia and we are at the center of it."
In Q2 this year, BerryBenka will be very busy as the team plans to roll out a new men's fashion section as well as hijab products for Islamic women.
(Featured image from Asrul.blogdetik.com)
---
Disclosure: East Ventures invests in BerryBenka and Tech in Asia. See our ethics page for more information.↩