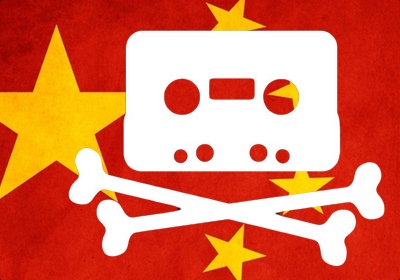 Digital music revenues are on the rise in China – albeit very slowly, and to a not very impressive level. According to figures from music industry group IFPI, digital music sales in China saw a 49.8 percent annual increase to $75.5 million in 2012. That's a small number from a massive country.
Indeed, that's just $0.13 in digital music spending for each one of China's 564 million web users. In stark contrast, China's e-commerce market will bring in an estimated $177 billion in sales this year.
Total recorded (and legal) music sales in China hit $92.4 million last year, which is inevitably going down as people move away from CDs [1]. Physical sales vs digital sales of music are now split 18:82 in favour of MP3s or streamed music.
Here's the key chart, as made by the fortnightly Music Ally Report (thanks to Outdustry for pointing it out to us):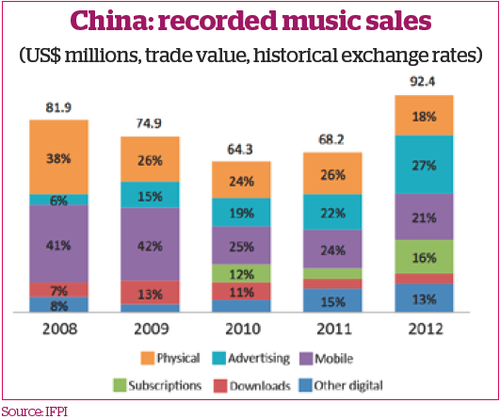 Going VIP
Piracy is clearly still a major issue. Here's a line from the report:
China is infamous for its rampant levels of piracy, which the IIPA estimates at 95 percent in the case of physical formats and 99 percent for digital ones.
Advertising is clearly the main form of monetization of legal music in China, as seen with the licensed free music on web portals such as Baidu Music and QQ Music. But undeniably those major sites have benefitted – in terms of traffic and ad revenue – from the many previous years in which they deep-linked to pirated music. But let's not forget that Yahoo's music portal for China did that until its closure just before Christmas.
Some of China's top music sites are slowly and carefully testing out VIP packages for their mostly free services, such as Baidu Music's new VIP section, and there are similar initiatives by Alibaba-owned Xiami, and other popular ones like Duomi and Kugou.
Outdustry's Ed Peto evaluates this late change in strategy on the Chinese web:
Most services are fairly cautious about the take-up projections for these premium tiers as there is very little precedent for people paying for music in this way.

Whether they will do the bare minimum to satisfy contracts with content providers or really put all their efforts into converting users into paying subscribers remains to be seen.
If you also include things like ringback tones, China's music industry is worth a healthier $2 billion. But that sector is dominated by China's three mobile telcos who give very little of that revenue back to music artists.
(Via: Outdustry)
---
Fun fact: whenever I see CDs being sold on the street in China (presumably pirated), they're sold as "car CDs", which suggests that those discs are only used in cars these days!  ↩