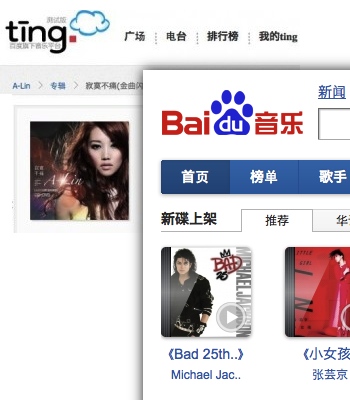 Well, this is weird timing: the corpse of Google Music for China, which was shut by Google earlier today, is not even cold, and rival Baidu (NASDAQ:BIDU) has already jumped on the name, changing its own "Baidu Ting" service to the name "Baidu Music".
Actually, that's quite unfair, as Baidu has been slowly rebranding it Baidu Music for the past few months, as seen in its mobile apps. "Ting" means "listen" in Chinese, and seemed like a good name, bit apparently Baidu prefers the more obvious name. And so today – with not a very delicate sense of timing – the music website has changed its moniker.
Baidu Ting was first launched in May of last year as a legal and fully-licensed music streaming and download service – and as a response to Google's own China-only music site, which debuted a full two years earlier. It was an important move for Baidu, China's biggest search engine, as it transitioned away from the pirate-friendly MP3 search and portal that had been causing consternation amongst local and global music labels. Baidu reached a landmark music licensing deal in July 2011 with One-Stop China, the local rep for major music labels like Universal, Warner, and Sony.
Ting.baidu.com now redirects to music.baidu.com, and "music" is the fifth button atop Baidu.com's main search page. It looks like the MP3 section has been killed, and now all its downloads are free but licensed.
[Hat-tip to Sina Tech (article in Chinese) for spotting this]