Here's a first look inside the upcoming licensed music player from Baidu – to be called Baidu Ting (百度听 in Chinese; 'Ting' meaning 'listen'), which is due to open later this month.
Baidu Ting will allow users to stream all of its songs – and download many of them – free of charge. Plus, users can create online libraries of some of their favourite music. This seems to go beyond the more simple 'stream or download' option on rival Google China Music.
Currently in closed beta, some sneaky screenshots of Ting have leaked out on Sina Weibo via some of its selected testers. Here's the main landing page: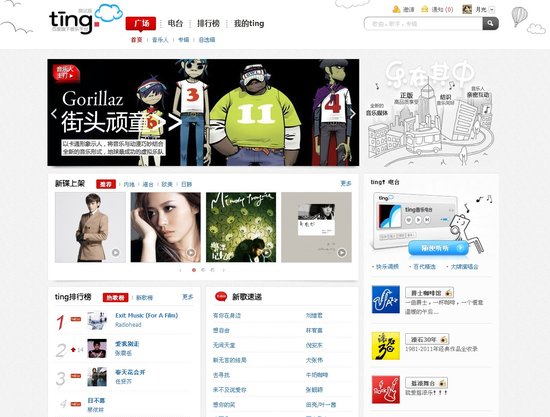 All the music in Ting is legal – in contrast to the old days of Baidu's piracy-lovin' deep-link MP3 search engine – after many months of Baidu negotiating with the Music Copyright Society of China, as well as a number of major labels, on a royalty payment system.
Initial feedback from Baidu Ting's beta users is that the service looks good and has great potential, but does not yet have much foreign music – "only one Lady Gaga track," laments the biz news website imeigu.com – and lacks some features that indie rival XiaMi.com (虾米) already has. Also there's no support for anything similar to Last.fm's 'scrobbling', which analyzes your music tastes to tailor its suggestions.
May launch
Due to launch in the next few weeks, Baidu Ting will be an important product, to bring in young users who will need to sign up with Baidu accounts, and perhaps drive the growth of their new Baidu Talk clone of Twitter.
It also comes just weeks after fresh attacks by Beijing authorities on the legality of Baidu's (outgoing?) MP3 search, and a public bust-up with Chinese authors over usage of their books in Baidu Library (百度文库) without payment, which has since been resolved.