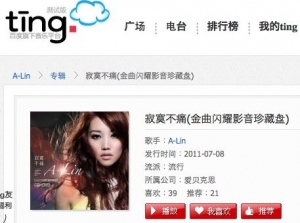 Today Chinese search giant Baidu has announced that it has signed a deal with One-Stop China, a joint venture representing the music divisions of Universal, Warner, and Sony. According to the announcement:
OSC shareholders will license to Baidu their catalogues and upcoming new releases, including Chinese songs (in Mandarin and Cantonese) and international tracks, which can be streamed or downloaded from Baidu's servers.
The deal also includes the resolution of  "all outstanding litigation" between the labels and Baidu. The agreement is reportedly for two years, and will see the search company pay rights-holders "on a per-play and per-download basis" for music served up via MP3 search and its social music service Baidu Ting.
This move continues what has been a very busy month for Baidu, as it rolled out a new browser just yesterday. Earlier in the month it struck deal with Huashu Media to get its popular search engine onto Chinese televisions.