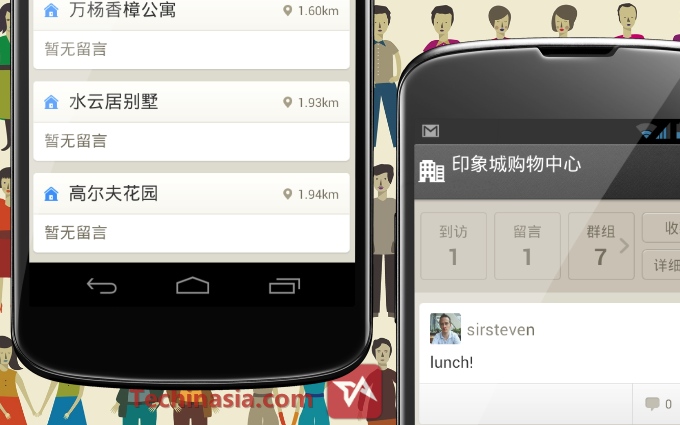 What do you do when your young app has 20 million users and you need a path towards monetization? Go local! That's the approach that will be taken by Momo, China's hottest flirting app, as revealed by its recent v3.0 beta. The dating app adds Foursquare-like listings and check-ins in the experimental update for iPhone and Android.
The new focus on local will come only to the Chinese version of Momo app – not the new global app – when it updates for iOS and Android later this month. The user-generated listings of local points-of-interest will rival those from Jiepang and Sina Weibo's 'Places'. Testing them out in the Momo v3.0 beta (pictured above), I notice that venues are restricted to those that are within a two kilometre radius.
Momo team member Zhang Ying explained the check-ins with reference to the startup's more established rivals:
We do notice that Weibo and Jiepang appear to have done things we are going to do. Whereas I personally think that Momo's check-ins and local listings will be more specific, featuring more interests-oriented and informative location-related feeds generated by users.
Indeed, the dating app already does have interest groups as a feature, so these will co-exist with the check-ins. The beta app also reveals that Momo will get Instagram-style photo filters. Looking ahead to the future, the listings could be a good way to make money from the app.
The English-language and globally-oriented version of Momo will not get check-ins to rival Foursquare anytime soon. "We want to keep the international version simple at this early stage," explains Zhang Ying.
Momo isn't the only location-based app that's thinking of local venues, as Tencent's WeChat ("Weixin" in Chinese) looks set to move into nearby daily deals and mobile payments if rumors are to be believed.
See more: 6 dating apps from Asia