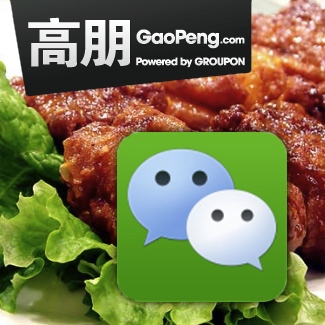 Now that Groupon's (NASDAQ:GRPN) official China site, Gaopeng, is effectively controlled by Tencent, the country's biggest web company, it's rumored to be entering into a very interesting and social partnership. According to sources cited by Techweb, Gaopeng will be tapped as the official daily deals provider for Tencent's (HKG:0700) WeChat app in a future update that'll see the messaging app introduce local deals.
With a great many of WeChat's 200 million users being in China (where the app is known as "Weixin"), this Gaopeng integration would mark a major expansion of the Whatsapp-like service in an e-commerce direction. The new feature is rumored to be coming in late November or early December, and will be dubbed "micro group buy".
Why is Tencent steering Groupon's Gaopeng into this? That's because Gaopeng was recently merged with FTuan under the guiding hand of Tencent, an investor in both those deals sites. Now Tencent has a major (but undisclosed) stake in the merged holding company, which is called GroupNet.
The payments infrastructure for WeChat's rumored new direction is ready with Tencent's Tenpay app recently updated to accept cash-less mobile payments. It's not clear if that'll be needed for WeChat users to purchase deals in the messaging app.
With other messaging apps like KakaoTalk and Line aiming for fun and entertainment, it'd be interesting if Tencent's WeChat instead took aim at O2O and local deals.
[Sources: Techweb (1) and (2) – articles in Chinese; via Marbridge Daily]