The Infographic of the Day series visually expresses important stories from Asia and the world of technology.
One of Jiepang's most popular location-based services (LBS), Jiepang, has made a neat infographic that breaks down some user trends. It gives a snapshot of how China's smartphone-carryin', LBS-lovin' youngsters spend their time. It reveals a pretty keen engagement with brands by these users, and a good understanding of what's hot right now.
---
Beijing Hot-Spots
---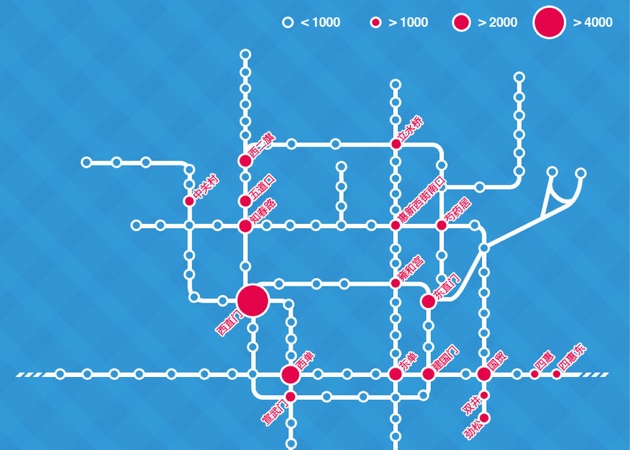 Starting in Beijing, we see the hottest part of the city, in terms of check-ins, is the unassuming downtown area of Xizhimen. Not a place for tourists to bother with, it reveals that Jiepang's users are utilizing the service to check-in to lots of regular restaurants, gyms, and offices – not just fancy malls or travel destinations.
Just last month, the company revealed that it was working with Nokia on a new series of NFC field trials in Beijing and five other Chinese cities. Those NFC check-in posters will come in handy in the city, where some areas see well over a thousand check-ins.
---
Brands and Movies
---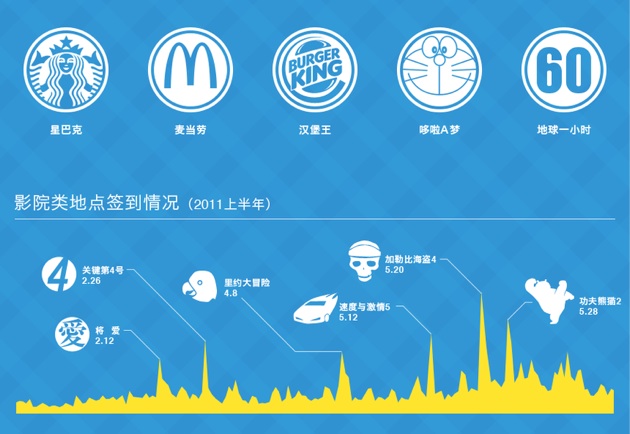 When Penn-Olson talked to Jiepang's CEO this summer, he made it clear that engaging with brands was big news for the company, as well as with its users. Thus it's no surprise that the service's users have some distinct favourite brands: namely Starbucks, McDonalds, Burger King, Doraemon (yes, the Japanese cartoon), and Earth Hour. That last one's a bit of an oddity, but it shows that sometimes Jiepang's fans make use of the service as a microblog to broadcast stances, and values.
Next, Jiepang's infographic reveals which film caused the biggest buzz in China so far this year amongst its mostly younger users. And the winner was… Pirates of the Caribbean 4, narrowly beating out Kung-fu Panda 2 in terms of movie check-ins.
---
Eating Out
---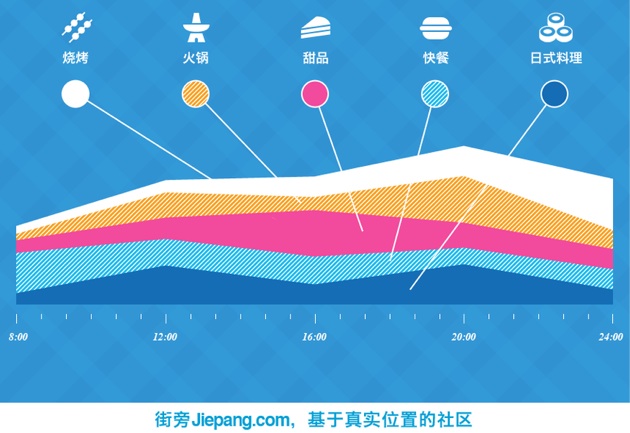 Lastly, turning to food, Jiepang's multitude of daily check-ins reveal what people like to eat at certain times of day. Fast food is favoured fare around breakfast time, and then loses popularity during the day; deserts, meanwhile, hit a peak at about 4pm as lots of people venture out for some Chinese-style afternoon tea. Unsurprisingly, street BBQ check-ins multiply in volume as the night deepens, and people seek out pretty much the only hot food there is available.
---
Mad for Malls
---
One last detail worth noting is that Chinese consumers are mad for malls – but mainly mid-range ones with plenty of food options. The two most popular venues in Beijing and Shanghai are both such venues (Joy City Xidan, and Jinqiao Plaza, respectively). Beijing's Sanlitun district – home to one of China's official Apple stores – is that city's second most checked-in site; Shanghai's IKEA is that city's third-placed venue. To check out the entire infographic, click here.