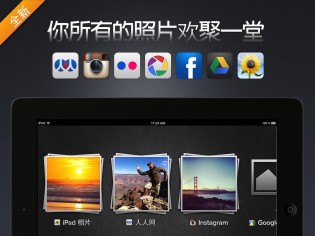 The folks over at Cooliris have been pretty busy of late, recently pushing a new update for its iOS app with support for new services like Google Drive, Picasa/Google+, and Flickr. And today the California-based company has more news, as Chinese versions of its iPad and iPhone photo viewing app are now available in Apple's app store.
Cooliris is also announcing that its app will also be integrated with local social network Renren (NYSE:RENN) in China, which had about 45 million monthly active users as of this past summer. The other integrated services are still predominantly foreign, with Instagram, Flickr, and Google Drive and Picasa [1]. So I would hope that Cooliris is planning to bring in more services that locals care about, like Sina Weibo, or even Instagram clone Tuding. A Cooliris representative says that they are working on more sources, but they cannot disclose anything just yet.
Cooliris's CEO Soujanya Bhumkar noted in the announcement that they're happy to be launching their first international version of Cooliris in China, as it's a pretty big smartphone market. As we saw over the weekend, there's certainly more than a little demand for Apple's iPhone, with over two million iPhone 5s [2] selling this past weekend after the handset finally launched in China.
Docomo Capital is an investor in Cooliris, so it will be interesting to see if Japan will be the next country to get a localized app.