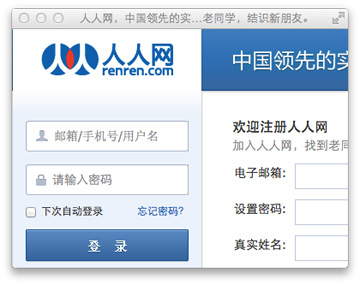 Renren (NYSE:RENN), the Chinese Facebook-ish social network, has released its unaudited second quarter 2012 financial results. In short, both user count/activity and financials are looking okay. They are growing.
Total net revenue was up by 47.5 percent from last year's Q2 to hit $44.8 million. More than half of the revenue comes from Renren's growing gaming efforts which increased by 122.1 percent to hit $22.5 million. Online advertising took a drop of 10.5 percent as Renren explains that it faces stiff competition with more users' eyeballs moving from PC to mobile.
Its user base has been increasing too. Total registered users are now at 162 million, although that number doesn't really matter to me. What matters is active users and Renren, quite impressively, revealed that monthly active users were up by 31 percent compared to Q2 2011 with a total of 45 million users. Sina Weibo, the Twitter-like service, on the other hand, has 300 million registered users but no one really knows how many are monthly active users today.
The Chinese social network is looking to expand its business in the mobile sector in the near future. Joseph Chen, chairman and chief executive officer said:
Looking ahead, our strategy remains focused on mobile opportunities, with increasing effort to experiment different monetization models, including mobile gaming, mobile advertising and mobile commerce through Nuomi.
Over the last quarter, Renren has partnered with Japan's DeNA on gaming and also SnapDish for photos on mobile. Nuomi didn't do that well as it was reported that it lost $9.6 million in Q4 2011.