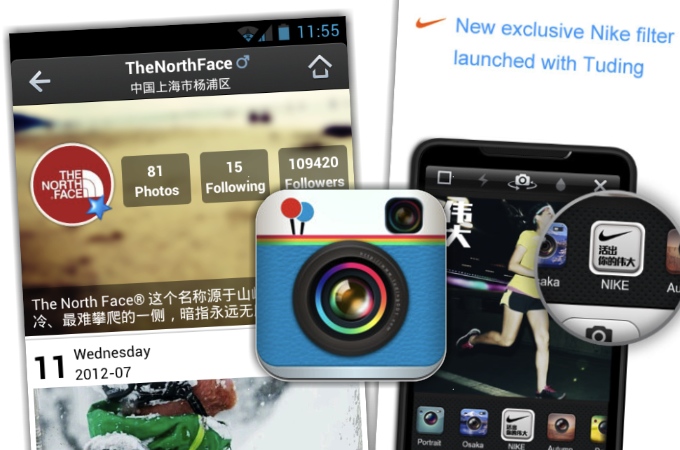 After acquiring millions of users, perhaps it's time for some monetization. That's the case with the team behind TuDing, one of China's biggest Instagram-like photo-sharing apps, which has recently started to play host to brands as part of their social media marketing campaigns. The three biggest to have partnered with TuDing so far are Starbucks, Nike, and North Face.
The two sportswear makers have a pretty unique thing to show for their marketing – a custom photo-filter within the app. It seems to be paying off for North Face, climbing beyond 100,000 followers in the photo-sharing service, which has a total of more than five million users. That's growing well from the four million we reported last December. Starbucks, meanwhile, has just signed up as a regular user, and doesn't have so many followers to show for it.
It marks TuDing's growth to the level at which it can be a destination for brands. Aside from the hundreds of millions of people on Sina Weibo, Tencent Weibo, and Renren (NYSE:RENN), Tuding is more like the check-in social network Jiepang in being a niche app where certain leisure brands can connect with a well-heeled, smartphone-owning, and receptive audience. That's why Jiepang has partnered with Starbucks for two years already, and has run some interesting campaigns with the likes of Louis Vuitton.
An infographic in Chinese (see it here) made earlier this year suggests that 58 percent of TuDing's users are women, so some female-oriented brands are perhaps missing out there. Of that five million user-ship, 33 percent are using the iPhone app, and 26 percent are on Android. As a whole, 48 percent of its users are synced up to Sina Weibo, firing off their photos to the nation via the country's biggest Twitter-esque site.
Snag the Tuding app for Android, iPhone, iPad, Windows Phone, BlackBerry, or Symbian S60 from its homepage.