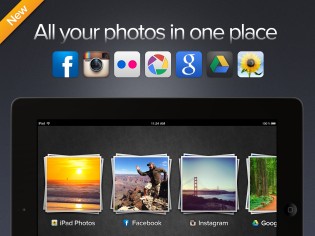 Today CoolIris has pushed a new update for its iOS photo viewing app, which adds new support for a number of sources including Google Drive, Picasa/Google+, and Flickr.
After version 2.0 of CoolIris was launched four months back, it racked up 80 million photoviews worldwide, including 25 million in Asia. And today the company has also announced even bigger milestones for the application today.
In total CoolIris has been installed 1.5 million times, along with 50 million app sessions. CEO and founder, Soujanya Bhumkar, adds that in terms of engagement it is "off to a great start with over 250 million photos viewed in the mobile app."
We're told that Asia makes up a big part of CoolIris's user base, with a majority of 37 percent of its installs coming from the region. It's top markets are Japan, Taiwan, and Thailand.
For promiscuous photo uploaders who have their images scattered all over the web, the new CoolIris looks like a great way to bring them all together for quick viewing on an iPhone or iPad. If you'd like to take it for a spin, you can get it for free over on the App Store.