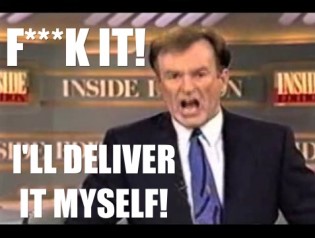 Earlier this month we looked into the reasons behind two of China's top e-commerce sites opting to deliver their own merchandise, subverting the fractured private delivery system that has been in place since online shopping first emerged in China. And now two more major sites, the recently listed VIPShop (NYSE:VIPS) and the electronics e-tailer Coo8, are making the same move.
VIPShop has submitted its application to authorities for a license to run its own nationwide courier service, as confirmed by Tang Yizhi, its vice president for logistics and customer service. He also revealed that with its current express delivery partners, S.F. Express and China Post's EMS, the company hits a successful delivery rate of just 95 percent, which it feels it needs to up a few percentage points. The only way to do that is to manage its own logistics, even though it will cost 20 to 30 percent more compared to using its partner couriers.
As for Coo8.com, which is a subsidiary of the bricks-and-mortar retailer Gome (HKG:0493), its CEO revealed the site's plans to establish its own in-house delivery team very soon, and which will employ several hundred by the end of the year.
To get into the groove for this, VIPShop has already started trial operations of its own courier service in Shanghai. Tang Yizhi says that even this limited running has produced exactly the kind of results his company wants to see: a greater percentage of successful deliveries, and reduced delivery delays by at least a half-day. Of course, that will be harder to replicate nationwide, especially in cities and provinces with less developed infrastructure.
And so China's mature and highly-competitive e-commerce industry looks set to shake-up the logistics industry in the country, no doubt to the ire of established players like S.F. Express, but also the state-owned China Post. There remains the risk that Chinese e-commerce sites could find their own express delivery services being legislated against, if the powers-that-be make the partisan decision to protect China Post and the status quo.