Screenshots of a commissioned report about Chinese iOS app developers (pictured below) reveal a tale of woe in the struggle to monetize their apps. For starters, each app download nets a Chinese developer an average of only $0.03 – yes, three measly cents – compared to an average of 40 cents per download for American developers. The worldwide median is 19 cents.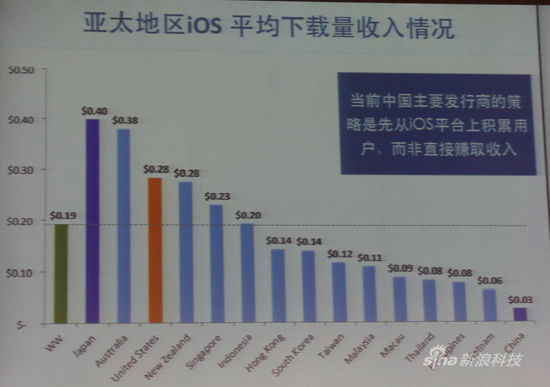 General unwillingness among Chinese smartphone owners to pay for apps – even for iPhone and iPad, where online payment in iTunes was recently made easier with the inclusion of bank debit cards – is causing local developers to look overseas. The same report – which was commissioned from App Annie – also notes how China's top ten development companies generate 90 percent of their app revenue from customers overseas. Those top ten devs only get 1.53 percent of their income from Chinese consumers.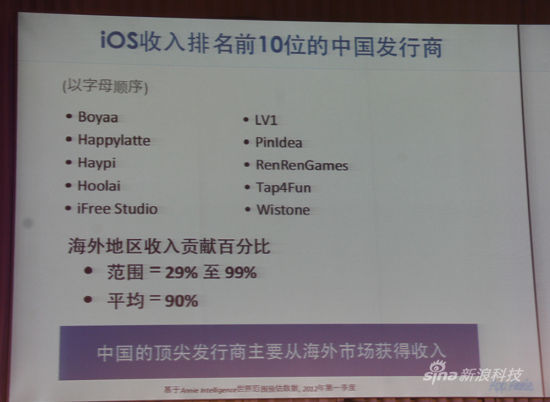 Some of the names on the above list will be familiar to regular readers. RenrenGames is the publishing arm of the local social networking site Renren (NYSE:RENN), makers of iOS social gaming titles like the World War II real-time strategy game Iron Marshal. That game cost 68 RMB (UK£6.99) when we looked at it last year, but is now – tellingly – free in the iTunes App Store, instead relying on a range of in-app purchases that start at just 6 RMB (£0.69).
Another powerhouse Chinese developer is the Beijing-based Hoolai games studio, one of whose titles was innocently caught up in a huge in-app purchase fraud last December. Clearly, other app devs in the nation are already aware of the woeful situation and are developing for a global audience. I see that iFree Studio has versions of its Emross War game (see the developer's page in iTunes) in German, Japanese, Korean, and traditional Chinese for Taiwan and Hong Kong. Oh, and simplified Chinese for mainland gamers too – though we can guess that that version will bring in the least revenue.
Of course, we're not too surprised by all of this, as an interesting Distimo report that we looked at last year described many Asian app consumers as "more price-sensitive" than in other nations, with a tendency to go for free apps.
But overseas users – and premium downloads – are not a panacea, and Chinese developers need to think carefully about the freemium model and the most effective kind of advertising platform. For example, the Sina Tech article that carries these images highlights the case of China's Go Dev Team (see the developer's page in Google Play), makers of Go Weather, Go Desktop, and lots of other apps that are especially popular on Android. Cao Ming, vice president of the 3G.cn company that owns Go, says that freemium can work well, and is best done by being innovative so that the product is recognised and can scale well globally. Then, Cao says, you can apply more advertising to it.
As for solutions, it's difficult to see what can be done now that online payments have already been made so easy. I'd wager that jailbreaking is more widespread in China than the global average, with many grey-import (smuggled) iPhones and iPads being jailbroken by the reseller as a service – sometimes with a whole bunch of pirated apps thrown on for a small extra charge. One idea to get Chinese iOS users to pay for apps comes from Innovation Works' Wang Hua, who tells Sina Tech that Apple's app pricing in iTunes is enormously awkward in the Chinese currency, with apps starting at 6 RMB and then going up in that increment. That denies local consumers a more psychologically satisfactory kind of price tag, such as 5, 10, 15 RMB. Or 4.9, 9.9, 14.9 RMB etc.
Well, that's one idea. But something tells me that mere price tags are not the problem.
[Source: Sina Tech news – article in Chinese]