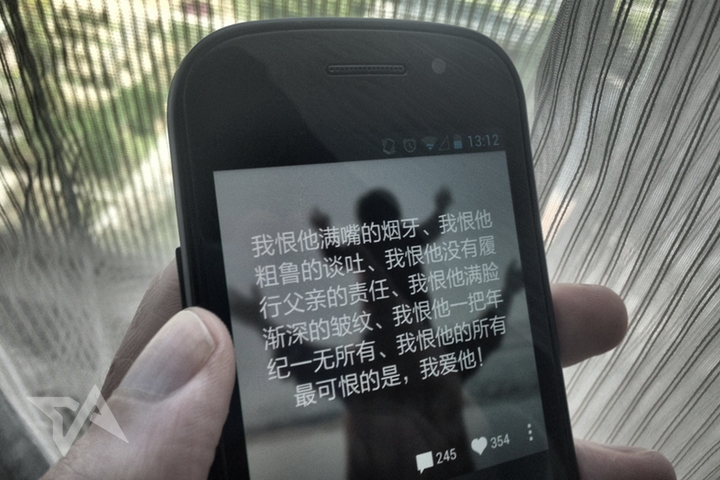 The secret's out – the newest app trend is for anonymous confessional apps like Whisper and Secret. After months of hype and strong growth for those apps, it's no surprise that the genre now has a pair of Chinese equivalents.
China's newly-launched Mimi (which means 'secret' in Chinese; pictured above) is a lot like Secret, while Xiao Sheng (meaning 'whisper') is, of course, a clone of Whisper. So, not much originality in the naming.
The apps look like their American cousins too. Mimi apes the attractive minimalism of Secret, while Xiao Sheng copies the clutter of Whisper, right down to the app's childish fonts and tacky background images, which look like awful PC wallpapers.
A cultural fit
It's unfair to call these Chinese apps rip-offs, as the originals are useless to a Chinese audience without any local content. Localization is a fairer word that fits in such cases. These apps could fit in well in China where so many people don't have a brother or sister to confide in and are culturally very hemmed in by nagging older relatives. And with worries about privacy on the Twitter-like Sina Weibo, which is a very public social network, these confessional apps can be a forum for release, discussion, and perhaps even encouragement.
As with Secret and Whisper in the west, the same issues and worries arise – about vulnerable people being exploited in some way, about the apps being an unhealthy place for people on the edge, and about the possibility of someone sharing your secret to other social networks where the screenshot could go viral.
(See: Xiaomi rips off a Kickstarter project to give your smartphone an extra, configurable button)
Indeed, after briefly testing out both Mimi and Xiao Sheng, it's clear that it'd be naive to expect privacy from these apps. Even for a generation of over-sharers, it should be obvious that there are enough ways for a damaging secret to be tracked down to an individual. In Mimi, for example, you need to sign up with your phone number, which is linked to a person's national ID number in China. The number won't be shown to fellow users, but it's on-record somewhere. While on Xiao Sheng there's a 'nearby' section, so you might spot a secret from someone you know; plus it has social sharing buttons built in, so your secret certainly isn't safe being whispered into an app. The app veers into exhibitionism by allowing people to use their own photo as the background. This is an animated run-through inside the Whisper-esque Xiao Sheng: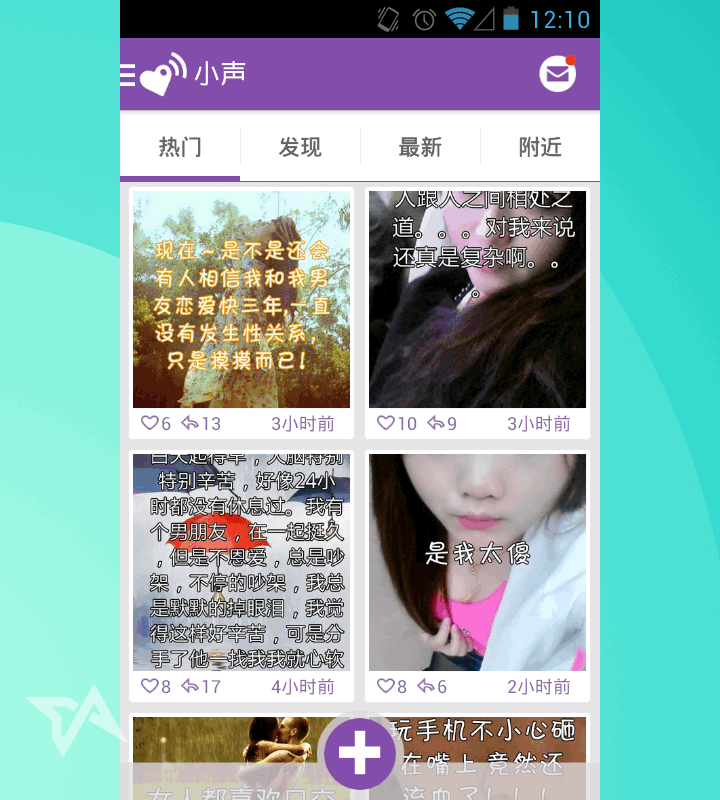 Get over it
Perhaps the biggest challenge faced by Secret and the many imitators it will eventually inspire is that the fundamental premise as a business is dumb. They're basically just the digital equivalent of what Mr. Chow does in Wong Kar-wai's In the Mood for Love while visiting Angkor Wat – whispering something that cannot be spoken into a crevice in a wall.
How do you build a business from that? How many advertisers want their name seen alongside dreary, disturbing, or perhaps even tragic and suicidal missives in these confessional apps? Bill Gurley, a partner at VC firm Benchmark, told Business Insider the other day, "I think it's going to be really hard to monetize." Those apps are not as easy to evolve into businesses as something like Snapchat. VC Fred Wilson says that Secret and Whisper are just a passing phase that will have a remarkably short half-life after the current boom. The same might not be true for their Chinese brethren.
Xiao Sheng has an app for Android. Mimi has an Android app ('.apk' file) and its iOS version is awaiting approval into the App Store.