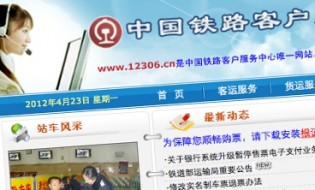 China's Railway Ministry has been having — how shall I put this? — a difficult time since it first launched its 12306 online ticket purchasing service in the run-up to last year's Spring Festival holiday (when hundreds of millions of Chinese crowd into the nation's train system to return home for the holiday). Although many private Chinese companies like Alibaba have had great success in the world of e-commerce, the Railway Ministry has been continuously unable to build a stable platform.
After last year's debacle of a launch, the Ministry promised that this year it would do better, but things are not off to a promising start. With just weeks before the system will be crushed with hits by the beginning of the Spring Festival rush, 12306 has already been experiencing serious problems. Most of the issues — slowdowns, dropped connections, etc. — will already be familiar to Chinese train-riders, but yesterday all the software problems were compounded by hardware problems, when an apparent air conditioning failure in the server room caused the whole system to go down on Wednesday, suspending all ticket sales for much of the day.
That kind of problem is certainly inconvenient at any time of year, but if it happens a few weeks from now when hundreds of millions of people are crowding into train stations around the country, it could quite literally be disastrous. And while the Railway Ministry says it has fixed the issue and the official 12306 site is back online now, it is difficult to take the Ministry's word on anything at this point. Last Spring Festival's problems were, the Ministry claims, the result of a new system that still had kinks to be worked out, but the errors and problems have continued unabated throughout 2012. Between the constant technical problems, the smartphone apps that were promised in September but are still nowhere to be found, there seems to be virtually no reason to believe the Ministry is any better prepared for this Spring Festival than they were last year. (The icing on the cake, of course, is that this buggy system somehow cost $50 million).
I have said it before and I will now say it again: the Railway Ministry is clearly incapable of operating a stable e-commerce platform, and it should quit trying immediately and hand the responsibility over to a private company that knows what it's doing, like Alibaba, 360Buy, or even Amazon China. I honestly think that if handed the reins tomorrow, any of those companies could probably put together a relatively stable system in time for the holiday rush. I also suspect that any system created by those companies would be far more user-friendly than the Ministry's official system which, even when it is working, could use some improvements on that front.
The chances that the Ministry will hand over control of its system to a private company tomorrow are roughly nil; I fear it will take another disastrous Spring Festival season before officials realize that whether or not they want it, they need help. In the meantime, Chinese travelers are likely in for another season of bugs, slowdowns, crashes, and general inconvenience. Don't you just love the holidays?