As part of what I'm increasingly convinced is actually a performance art piece about incompetent bureucracy, China's Railway Ministry has once again failed to meet its own deadline for the release of a 12306 smartphone app that would allow users to buy tickets conveniently on their phones. The app, which was first supposed to be released in September, was delayed until November. But, as you may have noticed, November is over, and there's still no app to be found.
The good news for Chinese ticket buyers, though, is that there are now dozens of independent alternatives out there, created by enterprising developers who wanted to help users navigate the notoriously unreliable and difficult online ticket purchasing procedures. Readers may recall that back in October, Kaifu Lee recommended Ikamobile's app as a good substitute for the Ministry's as-yet-nonexistent official offering, but the options are broad enough now that you'd have to buy an awful lot of train tickets to test them all. Below are just a few of the apps we found in a search for 12306 on the Apple App store. There are also plenty in the Google Play store, and despite the fact that many of them have aped the Railway Ministry's "12306" brand name, none of these apps are official: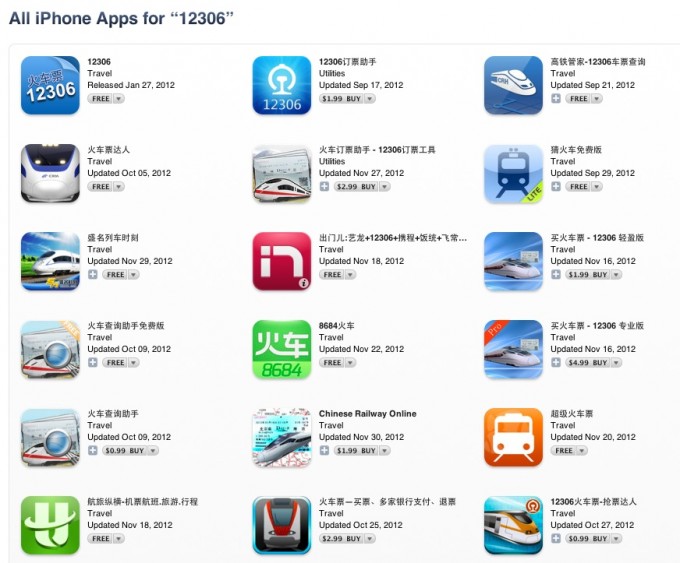 The problem with these unofficial apps is that they don't resolve the core problems associated with the Railway Ministry's sales platform. The site remains buggy and unstable, and without official cooperation, app developers can only access it in the same ways regular web users can, meaning that they can create better looking UIs and workflows for the service but can't prevent its bugs and flaws from messing up ticket orders when things go wrong.
In response to all these apps, the folks at the Railway Minstry have helpfully reminded everyone that while checking train schedules and the like is OK, you shouldn't actually try to purchase tickets through these unofficial apps. Still no word on when the official app is coming, though. Maybe when they originally said September, they meant next September?
[via Sina Tech]