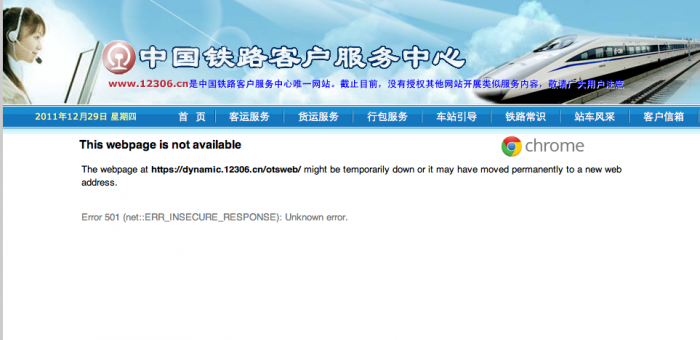 This week China's Railway Ministry is in the news for much graver sins, but yesterday was also the first day in which the Ministry's website offered pre-sale train tickets for the Spring Festival season. This was an especially important test because this is the first year tickets have been available online for regular (non-high-speed) trains. It did not go well.
Spring Festival, China's biggest traditional holiday, is best celebrated at home. Since much of China's population lives in cities but was born or has family connections in the countryside, this urge to return home results in what is literally the world's largest annual human migration. Since trains are the cheapest and most reliable form of long-distance transportation, China's train services usually bear the brunt of this migration, experiencing huge ticket lines and massive passenger counts.
The Railway Ministry is also blaming massive numbers for its ticket sale website's performance yesterday. Users reported that the site was extremely slow and frequently returned errors. A reporter with the Southern Metropolis Daily wrote that it took forty minutes to purchase a ticket (not counting payment) because each additional step of the process took several minutes to load. Moreover, the page returned errors so frequently that it took the reporter multiple tries across a full day before they were finally able to purchase a single ticket. Phone lines were also frequently busy.
According to the report, the site has since returned to normal. Our own attempts to verify this did confirm that the site seems to be loading quickly but, as you can see from the screenshot above, things still aren't perfect.
(However, many sites in China are designed with no support for any web browsers other than IE6, so it's possible that I got that error because I'm using Chrome.)
[Southern Metropolis Daily via Sina Tech]