Well, that didn't take long. On Sunday, the upgraded version China's 12306.cn — the official online ticket sales service of China's Railway Ministry — went online. This version was supposed to address the many complaints about the previous version's stability, delays, bugs, and general user-unfriendliness, but it appears to have failed. Numerous users have told Sina Tech that the new system forces them to "wait in line" to buy their tickets, with wait times over half an hour, and then because of bugs in the system, when they finally get to the front of the virtual "line" they are told their purchase has failed and they need to start over.
The problems don't seem to be occurring for everyone, but some users have been totally unable to buy train tickets; every time they get through the lengthy process and the long wait, they're told their purchase has failed and they need to start over.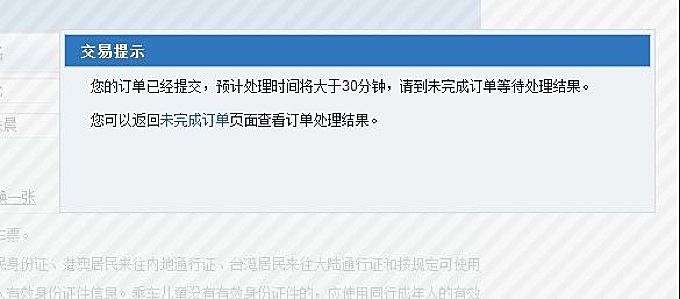 Officials explained that the wait-in-line system is a feature that was added to the upgraded site at the last minute as a way of compensating for the sudden flash-floods of traffic the site has to deal with. But a 12306.cn customer service rep admitted to Sina Tech that there were flaws in the system and that it wasn't completely efficient. The rep directed the Sina reporter to call a phone line and purchase the ticket that way, but calls to that number went unanswered.
This is far from the first issue with the online ticket sales system, which has been plauged with bugs and complaints virtually since its inception. The site was launched to disastrous effect shortly before this year's Spring Festival holiday, and the way things are going, next year's holiday could end up being just as tumultuous.
Security experts have also pointed out that 12306.cn is full of security flaws. For example, the man whose name the 12306.cn domain is registered in doesn't seem too concerned with security; on the front page of another railway-affiliated official site, he has publicly written that the default password for backend logins is "123".
In other words, if you want to travel somewhere in China these days, you're probably better off just taking a plane. Sure, it can be a bit more expensive. But it's faster, the ticket-buying websites work great, and you probably don't have to worry as much that your personal information is all easily available to hackers.
[via Sina Tech]