One of my first posts at the beginning of 2012 was about where China's startups are based. Today, looking at the same stats source, I see quite a big shift away from the capital, Beijing, in just the past eight months. Beijing has gone from hosting 49.7 percent of all the documented startups in the country to the current rate of 43.9 percent (see the chart below). Not a sea change, admittedly. But coupled with no growth in the Shanghai startup arena, it points to more local entrepreneurs heading back to the provinces, out to smaller cities and even their hometowns, and starting tech businesses there instead.
The stats come from looking at the excellent startup database, 17startup.com. It now lists 5,182 startup companies in the country. So where was the growth? Guangdong province, nestled next to Hong Kong down in southern China, saw 1 percent growth in the number of startups based there. But the shift away from Beijing seems to have been spread across the whole country, with the provinces of Fujian, Hubei, and Hunan now emerging as areas with more entrepreneurial drive than ever before. The 93 listed startups in Fujian, on the southeast coast, is a sign of healthy growth: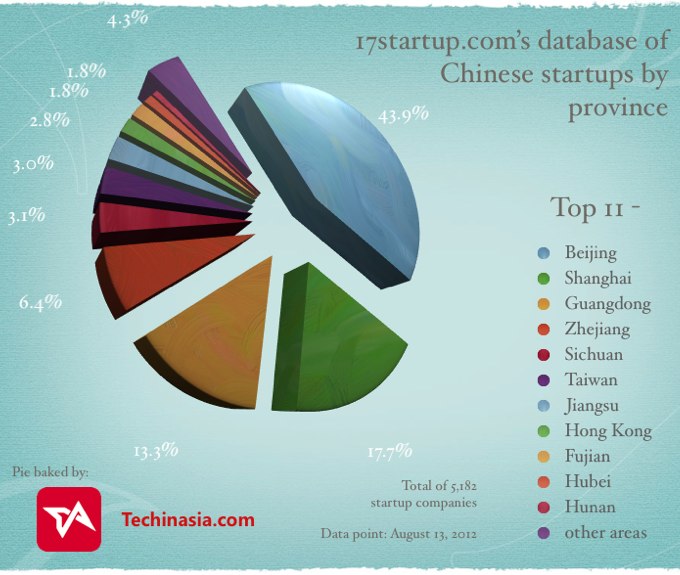 Of course, the startups are best judged by quality, not numbers in a certain area, so we'll have to wait and see if Fujian or some other inland areas can prove to be innovative and/or profitable on the web.
In the past couple of years, Sichuan province (still in fifth place) has gone from being renowned for its food to being known, in tech circles, for an impressive array of startups. That's the kind of diversification backed up by quality that China's poorer provinces need to show. To celebrate this shift away from the capital, this week I'll be looking at a few startups from Fujian and some other inland provinces. Stay tuned!
[UPDATED: Swapped out a tastier – and more colourful – pie]