The Chinese startup database 17startup.com has compiled the location and category of all its listed young companies, giving everyone a nice snapshot of the indie tech scene in China. It shows that Beijing still dominates, playing host to 49.7 percent of startups in the country – way above Shanghai's 17.9 percent. Guangdong, which is right next to Hong Kong and is home to Shenzhen and Guangzhou, comes in in third place.
It also shows that startups in the country are most likely to have some aspect of either e-commerce, mobile, or social in their DNA – but then that's probably true of many other lively tech scenes.
The 17startup.com pies were kinda half-baked, so we took the liberty of utilizing the stats and then cooked up pie graphs of our own. First, here's how all the Chinese startups break down by geographical location: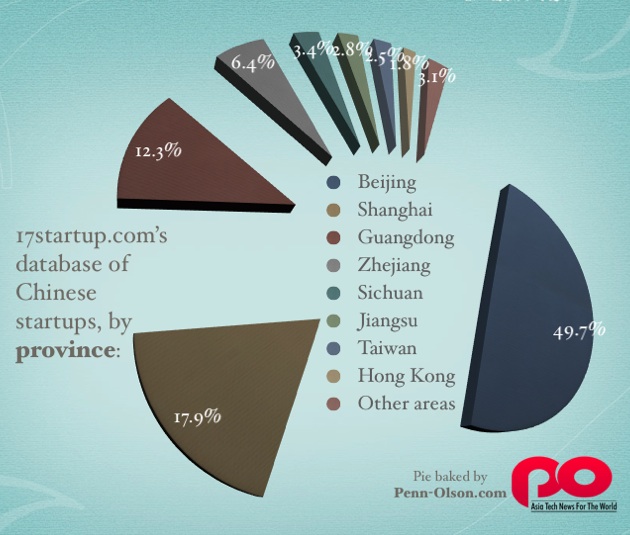 And, here's how they look in terms of the type of startup: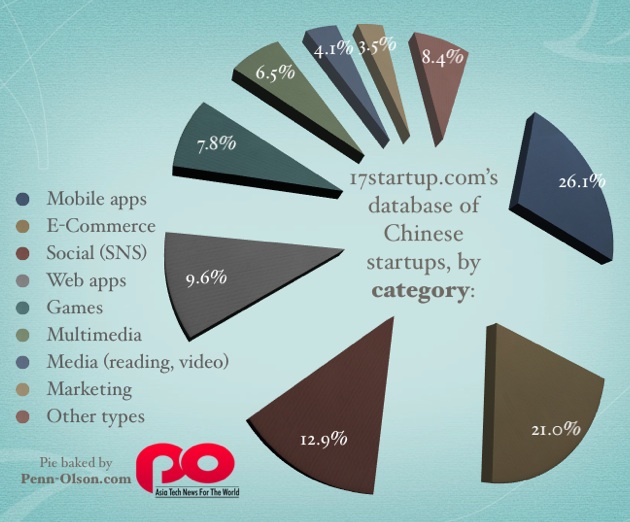 Note that the site allows startups to be tagged in categories multiple times. In those categories we can find some names familiar to regular PO readers. For example, there's the group-buying site Lashou, and smaller enterprises run by a few people such as Vida – both of whom are two very diverse examples of the two most popular types of startup in China.
Take the stats with a pinch of salt, though. China is huge and it is tough to track every one of the startups since they tend to be born and die quickly. Nonetheless, with a sample size of over a thousand startups (and judging by experience), 17Startup's stats do paint a pretty good picture of where the Chinese entrepreneurs are working on their next big thing.
[Source: the 17startup blog – article in Chinese]