2012 was a year of disruption, frustration, and lost users for search engines operating in China – the emotion depends upon which of the five main players you're talking about. Much of the frustration belonged to Google (NASDAQ:GOOG), whose services are so unfairly slowed and deliberately borked by China's Great Firewall. There were quite a lot of lost users for Baidu (NASDAQ:BIDU), not to mention a declining share price [1]; and Qihoo (NYSE:QIHU) was the disrupter.
New pageview and unique visitor stats for all the search engines in China reveal how the landscape looks at the end of the year. From Chinese traffic stats company CNZZ, the data for December 2012 shows Baidu slipping yet again in terms of traffic share to 71.76 percent – down from 72.97 percent of pageviews at the end of October. It's perhaps no coincidence that Qihoo's controversial new So.com, which only launched last summer, rose by about the same amount that Baidu lost. Google is long since resigned to fourth place, below Sohu's (NASDAQ:SOHU) Sogou.com search engine.
Here's the table, with green figures for December 2012 indicating a recently rising share of pageviews: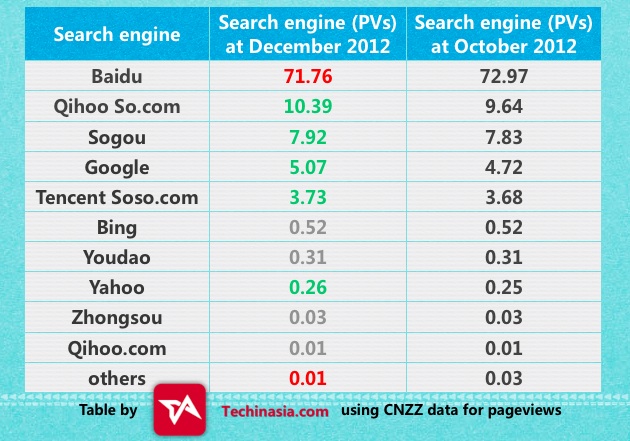 Those sceptical of Qihoo's So.com speculate that it will be hard for it to build upon its initial tranche of web traffic, something that's thanks to its long-standing AOL-like web portal and its IE-esque web browser. But Qihoo is defying the critics by edging up slightly in these latest stats from CNZZ. Its search offerings are a bit limited for now, but we can expect it to add new aspects in 2013. It has already recently added things like online maps (but not in a mobile app) in conjunction with Autonavi.
Lower down the order, things seem pretty static. Yahoo (NASDAQ:YHOO) went up a fraction; perhaps the company can hunt down its one new user and give them a prize. Bing, too, is not seeing any apparent boost from its Windows Phone ecosystem.
Hopefully the new year will be about innovation, which will help win over China's increasingly more discerning web users. Just last month, both Baidu and Sogou launched their own mobile voice assistant apps for Android, which look quite a bit like Google Now.
[Source: CNZZ data; via Marbridge Daily]