Qihoo's 360 Search has sure kicked up a storm since its debut a couple weeks ago. Now it is moving from what was apparently its temporary home at hao.360.cn/so to a dedicated domain of its very own: 360sou.com. Is that too long for you to remember? If so you're in luck, because there's yet another dedicated domain that's even shorter that works, too: 360so.com.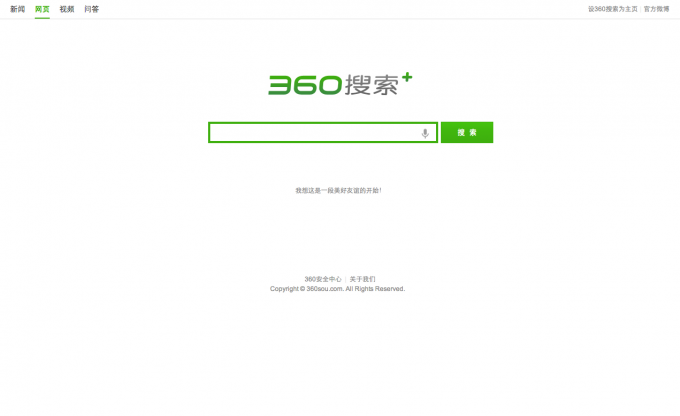 The new domain sports a shiny new frontpage with a much cleaner and more modern look than the previous site. It's also quite interesting to note that across the top bar, the new site lists only "News," "Video," and "Answers" searches in addition to the regular web search. In other words, it's now offering only Qihoo 360 services on the front page; Maps, Images, and MP3 search — which Qihoo can't yet offer itself — are not displayed, although they do show up on results pages once you're searched for something else. Discerning readers will recall that when the search was first launched, all of these links went to Baidu services, but they were replaced with Baidu competitors a couple of days ago as a retaliatory tactic for Baidu redirecting 360 Search users to its front page.
Clearly, Qihoo (NYSE:QIHU) wants to play up its own in-house offerings, but a search service without maps or even images looks pretty sickly these days, so I wonder how long the company will keep the front page like this. It's a good reminder of their recent attack on Baidu, but it's also a reminder that Baidu offers more useful search services than Qihoo does, and I can't imagine that's something Qihoo really wants to remind its users of.
[via Sina Tech]