Chinese traffic stats company CNZZ has calculated the impact of Qihoo's (NYSE:QIHU) controversial new search engine in the China market, and reckons that it has grabbed the second spot with nearly 10 percent market share. This puts Qihoo's So.com search engine way behind market leader Baidu, but ahead of Sogou (7.83 percent), and fourth-placed Google (4.72 percent).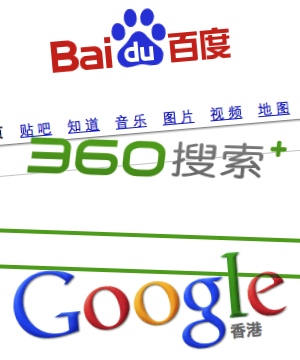 Here are the new CNZZ stats in full:
China's Search Engine Traffic Market Share (using CNZZ data for pageviews), Oct 2012:

| Search engine | Market Share (PVs) |
| --- | --- |
| Baidu | 72.97% |
| Qihoo's So.com | 9.64% |
| Sogou | 7.83% |
| Google | 4.72% |
| Tencent's Soso.com | 3.68% |
| Bing | 0.52% |
| Netease's Youdao.com | 0.31% |
| Yahoo | 0.25% |
| Zhongsou | 0.03% |
| Qihoo.com | 0.01% |
| others | 0.03% |
Qihoo's gains came from both Baidu and Google, which both dropped slightly since Qihoo's 360 Search hit the scene in August. It's no surprise that Qihoo has vaulted into second place, as several sources said it had done so in just its first week, but it's good to have this data from CNZZ to paint a broad picture of how the landscape has changed.
But Qihoo will likely find it hard to grow more. Though it's very clever in terms of making use of its web portal's great volume of traffic, it'll need to seriously innovate in search technology in order to dazzle new users. Qihoo's CEO Zhou Hongyi has said that he's aiming for 15 to 20 percent market share in this space in China. Baidu's (NASDAQ:BIDU) shares have dropped in recent months as analysts worry about the threat from Qihoo.
As for Google, it's a double-dose of gloomy China news for the search giant after we reported earlier today on how usage of its Google Maps app is in huge decline in the country.
[Source: CNZZ; via Marbridge Daily]