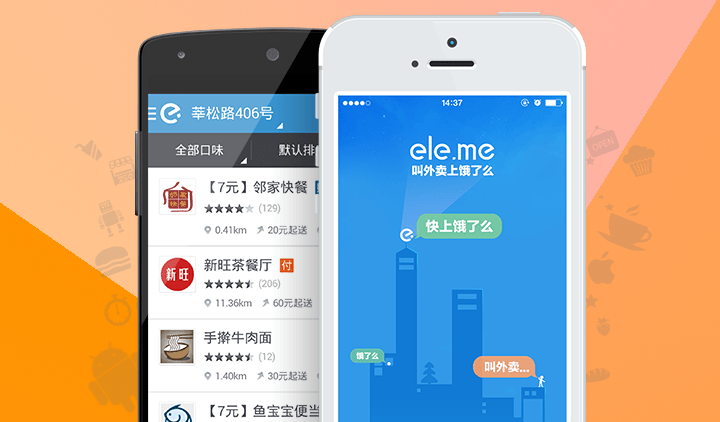 There are a number of online food ordering services in China, but only one stands out for focusing on delivering food to students living on campus. That's Ele.me – which is Chinese for "Are you hungry?" Today, China's top food listings site, Dianping, revealed it has invested US$80 million into Ele.me.
The deal will see Ele.me integrated into Dianping in terms of behind-the-scenes resources and platforms, but the site will continue to run as normal, according to the 36Kr tech blog. It currently has listings for 50,000 restaurants in 30 Chinese cities, with a strong focus on food outlets around universities and colleges. The startup is getting 100,000 orders per day at the moment
But what makes Ele.me unique is also a big problem: students don't have much money to spend. According to the startup, the average food order via the service is a mere RMB 30 – that's US$4.80. In contrast, China-based Sherpa's, which focuses on middle-income families and expats in three Chinese cities, has a minimum order of RMB 100 ($16) in the evenings – or double that if it's raining.
(See: Tencent takes 20% stake in China's Yelp, will add restaurant reservations to WeChat)
Ele.me makes money from a cut of each order taken from the restaurant (so it's free for users), as is the case with most other online services. But that means it's only getting a small cut of a small order each time. Despite these issues, Ele.me has previously raised $25 million from major investors such as Matrix Partners and Sequoia Capital.
Dianping started offering online food ordering at the start of the year only in Shanghai, and that has since rolled out to a few other cities.
(Source: 36Kr)