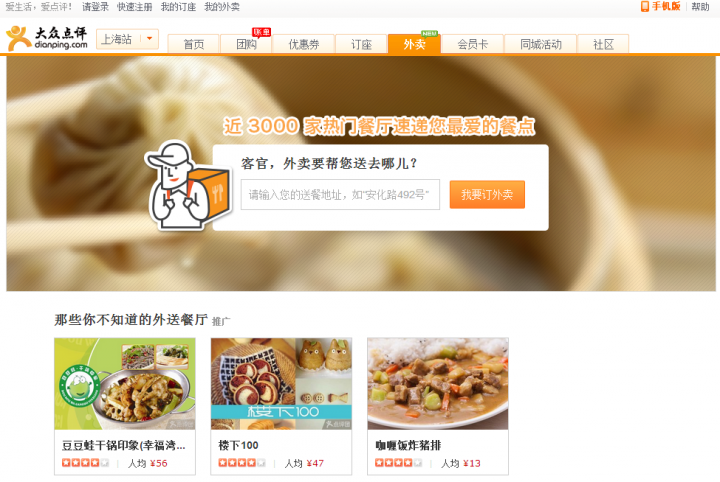 Food review and group-buying website Dianping officially launched its food delivery service in Shanghai after a one-month beta test, according to TechNode.
Ask any young Chinese urbanite where to find good food reviews and discounts, and the majority will probably answer Dianping. The site has been around for a decade now, and a recent rumored Baidu acquisition that turned out to just be hearsay had analysts valuing the company at $2 billion.
China has dozens of online food delivery services, but a site as popular as Dianping has the potential to wipe them all out. The company's Q3 2013 report stated it had 75 million monthly active users reading 28 million reviews of six million merchants across 2,300 cities. 70 percent of its traffic came from mobile devices.
Besides food, the website has also expanded into weddings and hotels, among other verticals. Technode says Dianping wants to be China's TripAdvisor. Later this year, Dianping also wants to expand its group-buying services to third- and fourth-tier cities. Its biggest competitors in that space are Meituan, Alibaba-owned Juhuasuan, and Baidu-backed Nuomi. In Q1 last year, China's daily deals market generated $1.7 billion in revenue.
We expect Dianping will roll out food delivery in more cities, but the company did not give a timeline.
(Source: TechNode)
(Editing by Steven Millward)