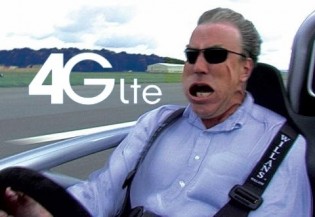 Over the weekend, China Mobile (NYSE:CHL; HKG:0941) flipped the switch on massive new 4G trials in two Chinese cities. It means that residents in Hangzhou and Wenzhou, both in Zhejiang province on the outskirts of Shanghai, can now sign up for full TD-LTE services.
New 4G users in those cities will find that they won't get high-speed data beyond the city limits, but it will be usable in other areas that have ongoing trials of the new network, such as Beijing, Shanghai, and Shenzhen.
For the Hangzhou 4G launch, China Mobile set up 2,400 4G base stations to cover 500 square kilometers, serving five million people in the prosperous lakeside city. China Mobile customers need to put down a 500 RMB (US$80) deposit to get in on the 4G trials, and they can then choose from some pretty affordable 4G data packages that are similar in price to the existing 3G plans around the country. The cheapest China Mobile 4G data package is 50 RMB ($8) for 2 gigabytes each month, right up to 500 RMB per month for 100G of data.
As well as promoting the 4G speeds of up to 100MBps in malls across the two cities, China Mobile has also transformed one Hangzhou city bus route into a "4G City Experience" fleet of buses, whereby anyone can sample the network's speeds via wifi. We saw that same marketing ploy last year on buses in the southern city of Guangzhou.
4G for 2014?
There's still no set date for a nationwide rollout of 4G. After many years of anticipation, it's not likely that 2013 will be the year. After all, we've seen the head of the Ministry of Industry and Information Technology (MIIT) say repeatedly that China's big 4G push will not happen as quickly as people think, and that the initial emphasis is on getting more people onto existing 3G networks.
2014 seems much more likely, as voiced by the China Mobile vice-GM when he said he anticipates that his telco will have 100 TD-LTE handsets ready for customers to buy next year – and the iPhone will be one of them.
China currently has over 230 million 3G users (out of 1.1 billion mobile number subscribers), with China Mobile only marginally ahead of its much smaller rivals having been hampered for years by its unusual TD-SCDMA 3G network which cannot support any iPhone or iPad models. 4G is China Mobile's chance to start afresh – and perhaps to dominate.
(Source: Xinhua – article in Chinese)