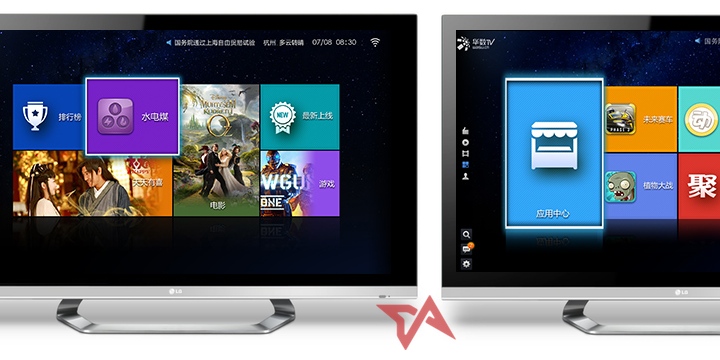 As earlier rumors had indicated, Chinese e-commerce titan Alibaba is launching both an Apple TV-esque set-top box for Chinese consumers, and a TV-based OS that will be used by numerous firms in smart TVs. As announced this afternoon, it will mix fun digital content with the ability to do things like shop online and pay bills via your TV.
Alibaba is calling its creation the Smart TV OS. Several Chinese hardware manufacturers, such as Skyworth and Changhong, have agreed to make smart TVs running the Smart TV OS. They'll be launched in due course. The set-top box is called the Wasu Rainbow (pictured below), which is made in conjunction with a local company called Wasu Media that has lots of experience in internet TV. There's no specified price for the set-top box, or any availability dates for it or for the various other smart TVs. (Update: Should be released in Q4).
As you can see in the images supplied by Alibaba, the Smart TV OS is reminiscent of the Xbox's interface. Judging by the screenshot of a QR code, e-commerce shopping transactions will be completed on your phone or tablet, not on your TV.
(Update: An Alibaba representative responds to this paragraph by saying "The OS was developed by Alibaba Group, it is not Android-based."). It's not revealed by the company what the software is based on, but perhaps it's built around Alibaba's existing Aliyun OS, which is sold on several smartphones but which has failed to gain traction with consumers. Alternatively, it could be Android-based.
Alibaba has been diversifying a lot in the past year – and is keen to be a lot more social. A few months ago the company invested $586 million in Sina Weibo, China's hottest social network.
There are plenty of rivals for Alibaba in China's sitting rooms. Aside from smart TVs from established TV brands like Samsung and Sony, there are also LeTV's Super TV models, as well as its set-top box for those with ordinary TVs. The Chinese startup Xiaomi has also expanded on its success with phones by launching the Xiaomi Box; it is rumored to be working on a standalone smart TV as well.
---
(Editing by Enricko Lukman)