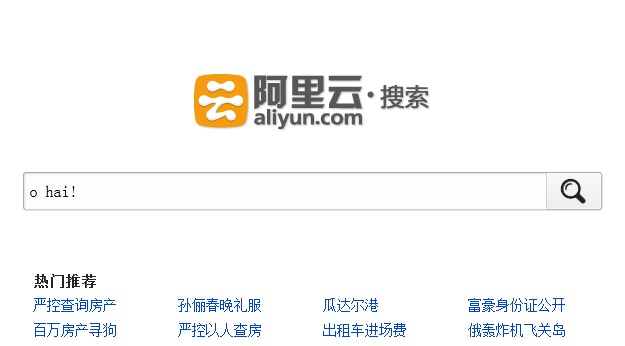 China's biggest e-commerce company, Alibaba, now has a search engine. Using the name of its cloud computing division, the newly-launched search service is at s.aliyun.com and features tabs for searching news, sites, images, and maps. We reached out to Alibaba, but an Aliyun department representative could not comment on this new product.
Aliyun might be best known to Chinese consumers as the name of Alibaba's own mobile OS, which launched back in July 2011 (and whose flagship Acer phone was notoriously shot down by Google last year). Since its inception, Aliyun OS has gradually expanded into other web-based applications, such as an Android app store and online maps. The search engine is the newest step in Alibaba's array of offerings that encompass both mobile and desktop.
China's top search engine is Baidu, while Google has slipped to fourth position due to the not entirely level playing field caused by its partically blocked services. It remains to be seen how much Alibaba will push its new Aliyun Search, and therefore what kind of impact it might have on Baidu.
This isn't Baidu's only recent challenger. Just last summer, the software maker Qihoo launched its own search service, and quickly mobilized its large user-base to take up 10 percent market share. That caused Baidu's stock price to suffer in the latter half of the year.
Aliyun Search is not Alibaba's first search engine experiment, as the e-commerce company also runs the product search engine eTao. In the past, some of Alibaba's rivals have balked at eTao – and even blocked its web spiders – and disputed if it can fairly index products from all online stores (as Alibaba inisists it does). It's likely that Aliyun Search will be met with the same kind of resistance from concerned rivals.
So far, Aliyun Search seems pretty advanced, and even features thing like widgets (see the screenshot above), as pushed forward by Google and Baidu, for certain common search terms such as to give an at-a-glance weather forecast.