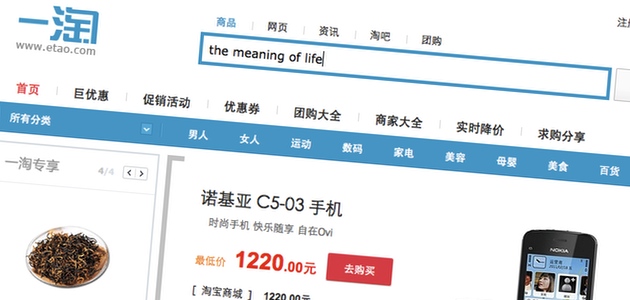 This afternoon, Alibaba Group announced that it will invest 1 billion RMB (US $157 million) to drive traffic to eTao, its own, open e-commerce product search site which indexes lots of e-commerce sites.
According to internal statistics released today, eTao.com crawls and indexes more than 5,000 business-to-consumer (B2C) merchants, 600 group-buy websites, and more than 200 million pieces of shopping-related information.
CNZZ data (also part of Alibaba Group) shows that there are more than 12,200 B2C e-commerce sites and about 200 new ones are popping up each month. Most sites, especially the new ones, don't have the resources to invest in their own advertising and traffic growth.
So eTao, insists Alibaba Group, will be a good and free platform for budding e-commerce sites, especially with this extra $157 million dedicated to driving traffic to eTao and its indexed sites.
The rationale behind the push for eTao is simple, said Alibaba today. According to statistics in the statement, it was found that 68 percent of shoppers search and compare prices before making online purchase. So for a complete consumer experience, it is logical to push forth an easy search tool specifically for B2C e-commerce search queries.
Eddie Wu, president of eTao, explained:
As an open platform and search engine, eTao aims to help more business-to-consumer and online shopping companies grow and improve; only by doing so can we ensure that the e-commerce industry achieves sustainable and healthy development."
Some of the familiar e-commerce sites in China which have embraced eTao.com and its third party login with Alipay are Vancl, Nike China, and Yihaodian. But there are of course other sites like 360Buy which isn't too pleased with the indexing service and recently blocked eTao's web spiders. A few days later, Dangdang.com and Suning.com also decided to to undermine its rival's product search engine by withdrawing their support as well.
Lastly, we were told that eTao.com will also index sites outside of China. Some Korean e-commerce sites are covered by eTao. But we're still unsure how eTao will solve the problem with the differences in languages.