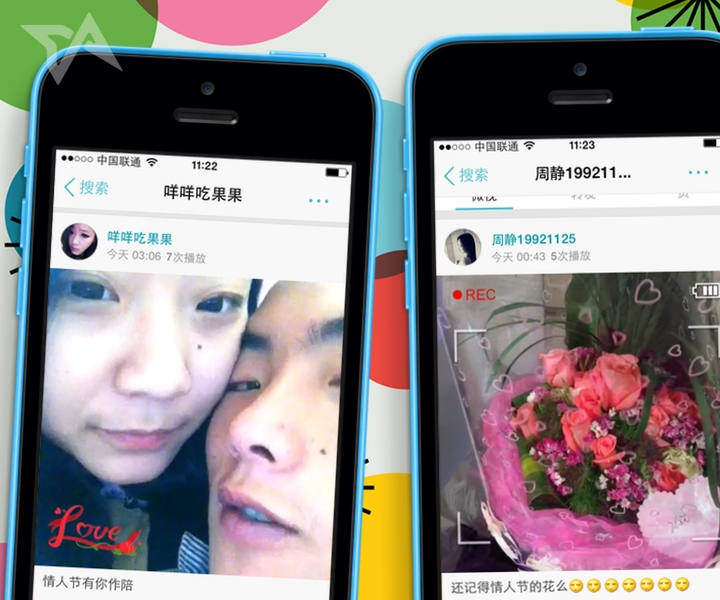 After seeing hundreds of millions of people start using the WeChat messaging app, Tencent (HKG:0700) decided to expand upon it last year with a standalone, Vine-like video sharing app. Called Weishi, it seems to be gaining traction in China, despite a raft of rivals making short and snappy video apps.
Today Tencent revealed that Weishi – in which users can make eight-second videos – hit a high of 160 million views on Valentine's Day. The app had been prepped for the occasion with Valentine's Day themes that put words like 'love' and 'kiss' in the corner of the screen, with the option of adding a sappy tune from the preset soundtrack options. Yes, the app has themes and music, making it more like Vine on performance-enhancing drugs.
Videos made with Weishi can be shared with friends on any social network as a link, but they benefit from appearing as embedded media in Tencent's own social networks, such as WeChat, QQ, and Tencent Weibo. Weishi videos can be shared to WeChat messaging for sending to specific buddies, or to WeChat Moments – which is like the Facebook Wall – for displaying to everyone you know.
Tencent points to strong numbers for Chinese New Year – a couple of weeks before V-Day – when Weishi saw 100 million video views interactions (comments, shares, likes) in a single day as a sign of solid growth in the mini social network app. (Update: Corrected that this figure was for interactions, not video views).
Tencent's video app is up against other Vine-like apps in China such as Wanpai (made by YouTube founders Chad Hurley and Steve Chen), and Sina's Miaopai.
Weishi is available only in Chinese, for iOS or Android.
(Editing by Paul Bischoff)