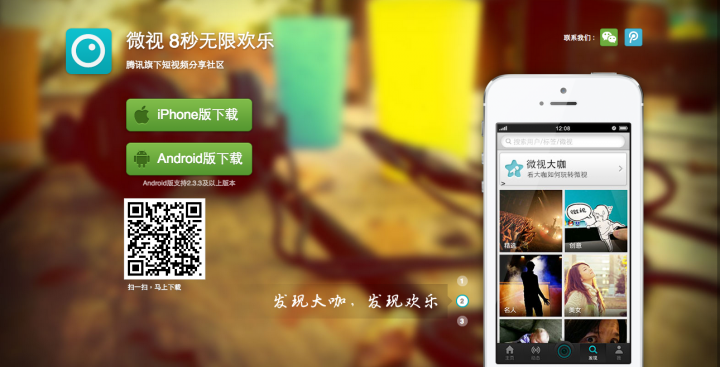 A few months back we got word that Tencent (HKG: 0700) – the maker of WeChat – was set to release a social video-sharing (think Vine) app by the name of Weishi. It hit China's iOS App Store late September, and since then, it's been slowly picking up steam – this it week hit the number two spot in the social category, and it currently ranks 18 overall, according to App Annie.
Now that it's had two months to marinate and climb the rankings, we decided we'd take the app for a test drive to see how it might contribute to the overall social networking landscape in China. We wanted to find out how it compares to Vine, and how it might complement the mammoth WeChat.
How does it work?
If you've toyed around with Vine or Instagram Video, Weishi will seem familiar – users can record 8-second video clips and share them with followers, who can then like, re-share, or comment on them.
There are four buttons at the bottom which determine what's on the screen – "homepage", which shows a feed of posts from followed accounts, "trending", which shows posts that have been retweeted by people you follow, "discover", which lets you parse through categories like "humor", "animals", "babies", and "beautiful women"; and an "about me" page where you can track new followers and change the app settings.
The camera button, meanwhile, is situated right in the bottom of the screen, which makes it a little more readily accessible than the one in the Vine app, which is tucked away in the top-right corner of the app.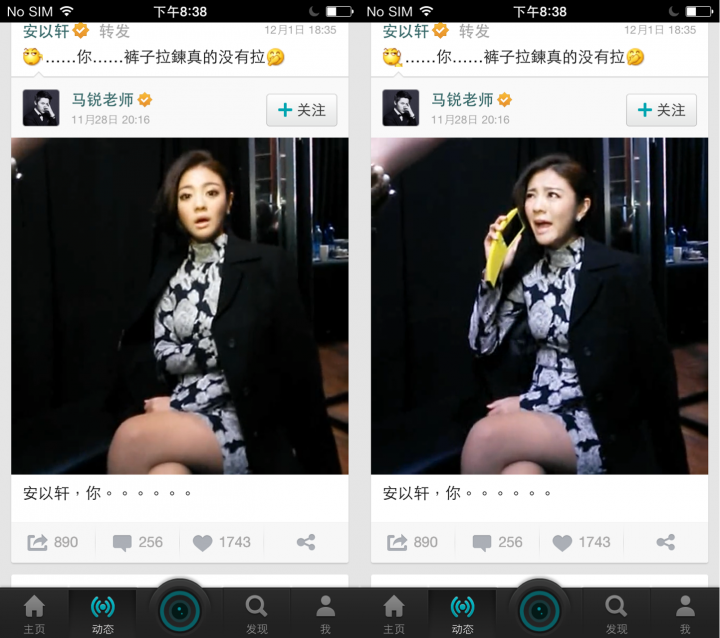 Recording a video clip is a cinch – just touch the camera button and you'll be taken to a page with the live camera lens. Pushing and holding on the lens starts the recording, and releasing stops the recording.
Once you've reached the 8-second limit, you can post the video with a short message. Posts can be specified as public or private (followers only), and can be sent out simultaneously to one's WeChat Friends Circle. If you want to send to WeChat, Sina Weibo, or a QQ social network, you'll still have to post to Weishi first.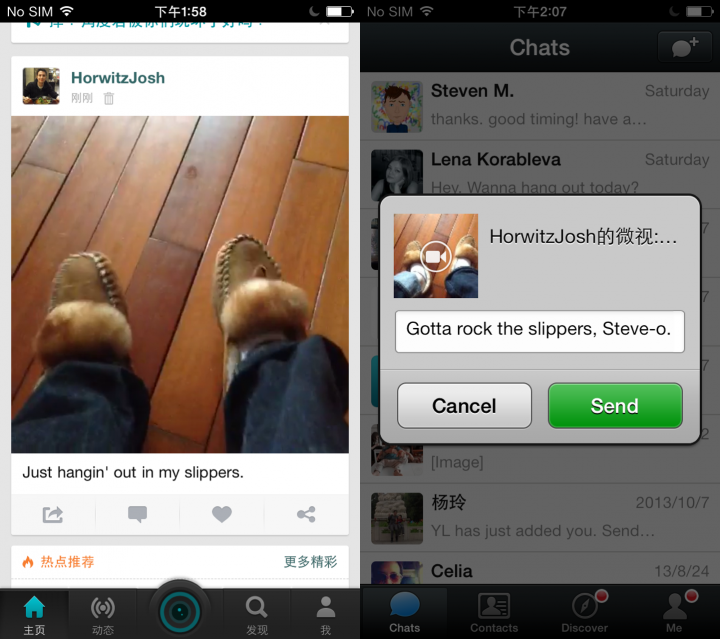 (See also: Ready for your close-up? Here are 10 great selfie apps)
What will I find on it?
Ultra-short point-and-shoot video clips seem to be particularly well-suited for goofs and inside jokes, so it's not surprising that Weishi contains its fair share of cute stunts. Scrolling through the "trending" category as I write this, I see beatboxers, karate masters, and a prank involving rolling chairs.
There are a fair amount of videos in which celebrities send out short messages to fans, which contain a dose of pixelated, lo-fi reality which creates a feeling of intimacy. There are also many videos featuring ordinary guys and girls doing their best poses for the camera, flaunting their local dialect or pulling visual gags.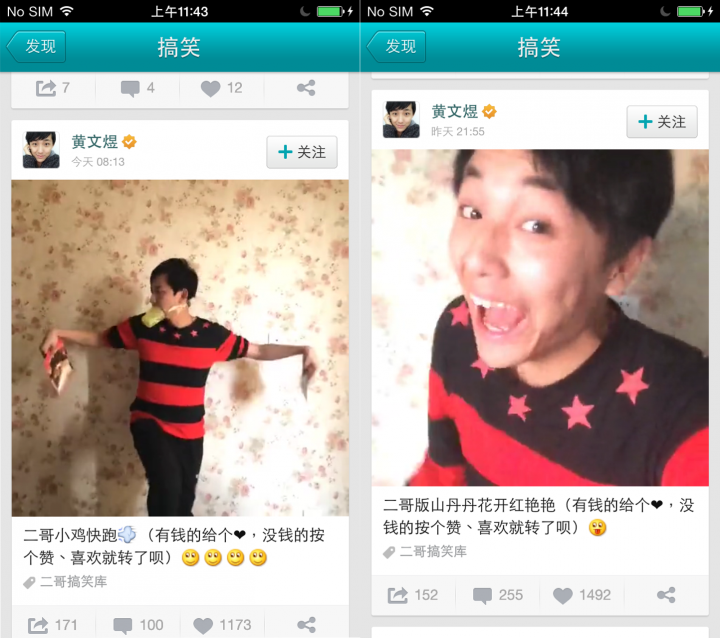 Already some memes have emerged on Weishi. One particularly good one, under the tag "Angle is very important" (jiaodu hen zhongyao, 角度很重要), features users shooting self-portraits by moving the camera from a low angle to a ninety degree angle. The meme apparently stemmed from this news segment, which aired back in August. Whereas the woman in that clip transforms from mere mortal to goddess in seconds, the results are more varied in this Weishi tag, which makes it all the more mesmerizing to scroll through (check out these examples). Will the woman (or man, as there are plenty of gents in this tag) be more attractive as the camera swoops up? Or less attractive? Sometimes the person looks "the same but different," in miniscule but fascinating ways. If the selfie met the Magic Eye, this would be the result.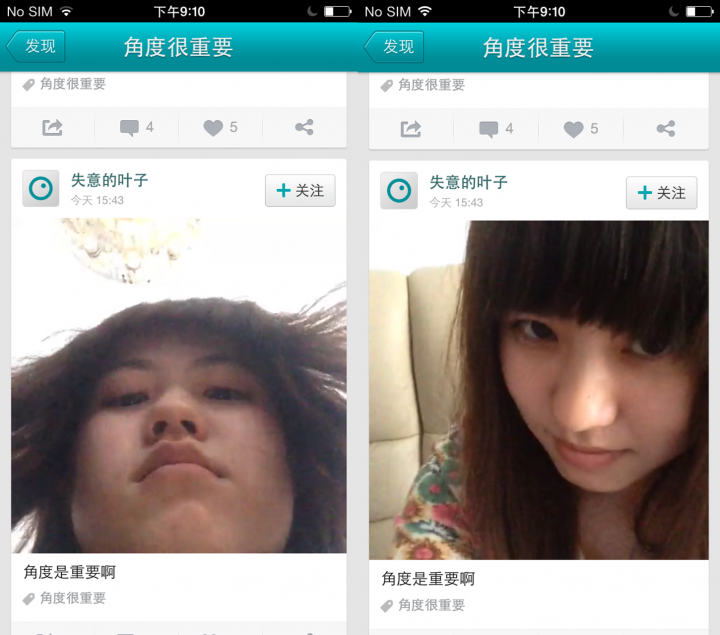 Does it matter?
Currently, social video clip apps such as Weishi have two use cases: They can be used to create and watch amusing videos, or used to create and share amusing videos on other social networks.
Weishi likely serves the latter purpose. It's a separate app from WeChat, and users can share content to QQ social networks and Sina Weibo, but given WeChat's dominance on mobile, in addition both apps bearing Tencent's "Wei" banner, the two apps are birds of a feather – a silly video clip app that connects to your warhorse messaging app.
Given the frivolous nature of most of the content on Weishi, one wonders why Tencent chose to make a standalone app for video clips rather than a supplementary feature on WeChat. The likely explanation would be that the company simply wants more of its apps on Chinese users' phones, and wants to broaden the reach of its "Wei" brand.
It's worth noting that at the moment, the most popular videos in the "trending" category get likes and shares in the hundreds, which pales in comparison to the tens of thousands on Vine. This indicates that there's still room for the app to see greater adoption.
(Editing by Steven Millward)