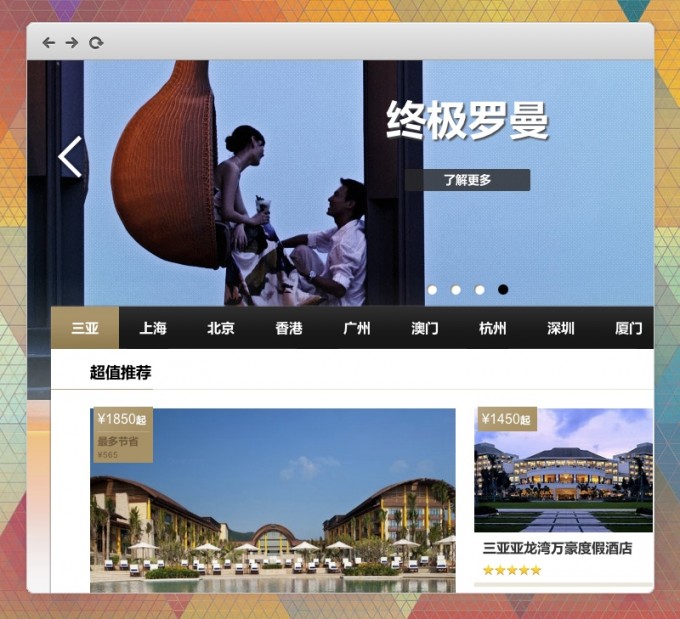 Baidu-owned (NASDAQ:BIDU) travel e-commerce site Qunar today opened up a luxury hotel section on its site. Packed with over 2,000 high-end hotels in some of China's top cities and holiday destinations, it represents an inevitable play for China's blossoming luxury e-tailing sector.
The new Qunar luxury portal is on the lh.qunar.com subdomain, and bears a more minimalist and sophisticated look than its regular frontpage.
It contains nothing that Qunar didn't already offer on its site for years, but now its top hotels have been compartmentalized and presented on a much nicer page. So it's a pretty minor roll-out, but a smart move to make, allowing Qunar to better showcase its hotel chain partners, such as Hyatt and Shangri-La, and the numerous boutique and designer hotels that are available. For now the new luxury hotel portal is focusing on just 10 cities.
Qunar revealed to Chinese media today that 21 percent of the site's bookings are for hotel rooms that cost over 500 RMB (US$80) per night, so it made sense to spin-off these offerings. In addition, Qunar claimed that, compared to its major rival Ctrip, which is China's top online travel agent, the Baidu-run site is able to offer a 10 percent lower price than Ctrip on 64 percent of its five-star properties.
Qunar faces stiff and diverse competition in both the top-end and normal travel segments in China. At the higher price points there are very specialist, tailored travel packages being sold by startups like Zanadu and TripTM, the latter of which was acquired by Ctrip last year. At the lower-end of the scale there are mobile-oriented travel e-commerce apps popping up, such as Bingdian and Hotel Finder.
Baidu took a majority stake in Qunar in the summer of 2011 thanks to a $306 million investment. It's rumored that the subsidiary could be one of many Chinese web companies shooting for a US IPO later this year.
(Source: iMeigu – article in Chinese)