China's biggest search engine, Baidu, is making a big move into the travel sector, today announcing it'll invest US$306 million in Qunar.com, a site and search engine for booking hotels, flights and package travel deals.
This big strategic investment – RMB 1.98 billion at today's rates – will make Baidu the biggest shareholder in Qunar, and is expected to be all signed and sealed by Q3 2011.
Qunar was rated as China's number one travel website in March this year, by iResearch, in terms of the number of daily unique visitors to the site; that puts Qunar ahead of rival travel e-commerce sites such as ELong and CTrip.
Baidu's CFO, Jennifer Li, today stressed how Qunar fits into the Baidu master plan, saying, "Travel has long been one of the top categories on Baidu, and the number of travelers in China has been growing very rapidly, so this is a market of obvious strategic importance to us." She continued: "Our investment in Qunar will create an even better search experience for users planning trips."
Ms Li's words seems to signal that, while Qunar.com will continue as a standalone site, it'll also be integrated into Baidu. Speaking of which…
---
Baidu on the move…
---
Baidu.com now has a new travel section, replete with social elements such as Sina and Tencent Weibo integration, on which you can 'follow' – yes, as on Twitter, or Weibo – places of interest, such as this page, below, for Yellow Mountain.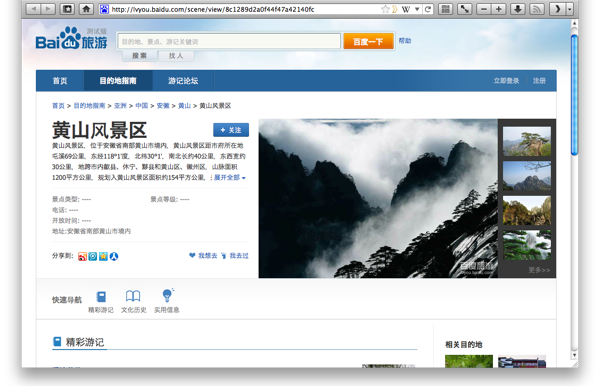 At the moment, Baidu's new travel portal isn't e-commerce enabled, but there's a strong chance that it could later be powered by Qunar, with online bookings and payments possible.
Online travel e-commerce looks set to be a huge boom area in China in the near future. Figures from the government's internet agency (CNNIC) 2011 web report suggest that only 7.9% of Chinese have booked travel services online, in contrast to a stratospheric 66% in the US.
Baidu is following closely in the footsteps of rival tech giant Tencent, who in May bought a $84.4 million stake in ELong, to become their second-biggest investor behind Expedia. With that investment, Tencent has also picked up its pace as it recently announced an additional five billion yuan of fresh funds dedicated to investing in potential tech start-ups and companies.
As Baidu and Tencent continue to expand their business portfolio, it will inevitably lead to even greater intensity and competition between the two.