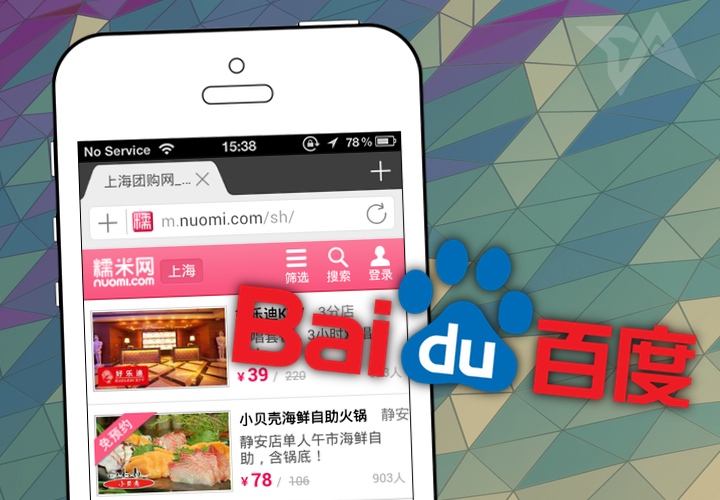 Back in August last year, Chinese search engine Baidu acquired the majority stake in Renren's (NYSE:RENN) group buying site for $160 million. Today both companies revealed that Baidu has now acquired the remaining stake in that site, Nuomi, for an undisclosed sum.
According to a Baidu representative talking to Tech in Asia, this move to wholly acquire Nuomi "highlights the importance of group buying to Baidu's LBS [location-based services] strategy." Indeed, Baidu has already integrated these Groupon-style deals into its popular Baidu Maps app, which has over 80 million users in China.
Nuomi is one of the also-rans on China's crowded daily deals sector. It has discounted deals for everything from food to gadgets to hotel booking. In Q1 2013 Nuomi was pulling in 5.9 percent of total revenue in the industry. The leading deals sites are Dianping and Meituan. But Nuomi's numbers might change as China's smartphone owners make use of daily deals found inside Baidu Maps.
Both parties expect to close this acquisition in the first quarter of 2014.
As for Renren, which was dubbed "China's Facebook" in its heydey, it is now free of the loss-making Nuomi which never really fitted into its social or gaming offerings. It also gives Renren more money to invest into pivoting towards a stronger focus on creating mobile games.
(Editing by Paul Bischoff)