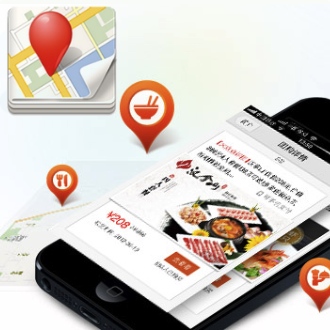 Just as everyone is talking about maps apps – to be precise, the ghost town nature of Apple's lousy new offering – China's top search engine Baidu (NASDAQ:BIDU) has rolled out a major update to its own smartphone maps. This nudges Baidu Maps to version 4.0 on iOS and Android, bringing with it new things like built-in discount vouchers for some stores and restaurants, a totally revamped voice navigation system, indoor guides for malls, and real-time traffic plus public transport info.
With this update, Baidu is bringing in an initial 4,000 vouchers and deals at venues across the country. Battling the traffic is another key area, with voice navigation no longer requiring an add-on, and real-time traffic flow (shown with color-coded lines; pictured below) shown as an optional layer. But the real-time bus arrival information is currently in testing in only one city, and will come to other areas later in the year.
Indoor maps first came to Baidu's web app in December of last year, and now they make their debut on mobile. This covers only a small selection of malls and department stores in Beijing right now, but this'll also see a broader roll-out in due course. The indoor maps within the app will serve as a guide to what's on each floor and also help you find specific brand stores. Eventually, this will likely become incorporated with the afore-mentioned vouchers, but it's all at quite an early stage.
Those new features in v4.0 come on top of others – I like the AR function for finding stores nearby using your camera, a lot like in the Layar app – that can easily blow Apple Maps out of the water. The app can challenge Google Maps too. Indeed, the last time we looked at market share data in this sector in China, the Google Maps app was holding on to second place by a mere dumpling skin (17.5 percent share versus Baidu Maps' 17.3 percent), while Autonavi was out front with 25.7 percent.
Get v4.0 of Baidu Maps for Android and iPhone from its homepage. There are other versions for Symbian and Windows Phone, but they've not yet had these new features.
[Source: 36kr – article in Chinese]