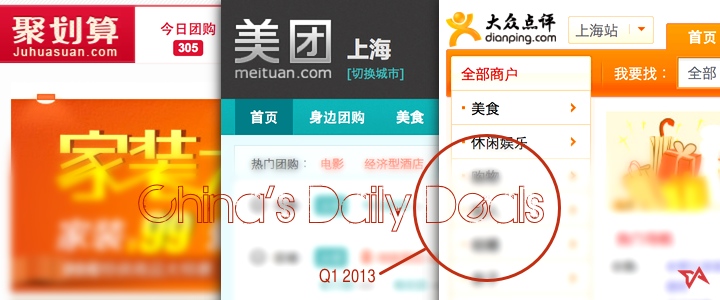 It's time to check back in with China's massive daily deals industry and see how all the Groupon-like sites are progressing in Q1 2013. One of the key findings is that the top 10 deals sites have nearly completed their consolidation of this previously very fragmented market. The top 10 now account for 94.7 percent of daily deals revenues in the country, up about 10 percent from the same stage last year.
The new statistics – once again from Dataotuan – also show that the total revenue in the industry in Q1 was RMB 10.3 billion, which is nearly $1.7 billion. The top seven sites remain the same from Q4 last year as the once volatile sector settles down.
The big winners in the new data include second-placed Meituan, going from 13.1 percent market share to 17.8 percent. It's the largest indie/startup deals site in China, sitting in second place behind Alibaba's Juhuasuan. But Alibaba's site saw a big drop in market share, falling from 47.8 to 33.6 percent from Q4 2012 to Q1 2013.
Another climber is Gaopeng, which is Groupon's (NASDAQ:GRPN) struggling China site. After years of decline, it's finally gaining traction after being merged with FTuan last summer under the guiding hand of investor (and China's biggest web company) Tencent. Gaopeng gained nearly a whole percent point in the last quarter to now stand at 2.7 percent. Here's the full scene: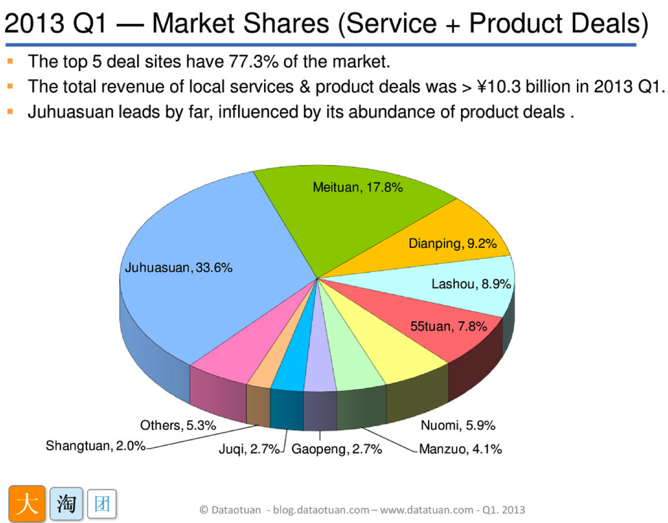 Here are the movers and shakers in the past year: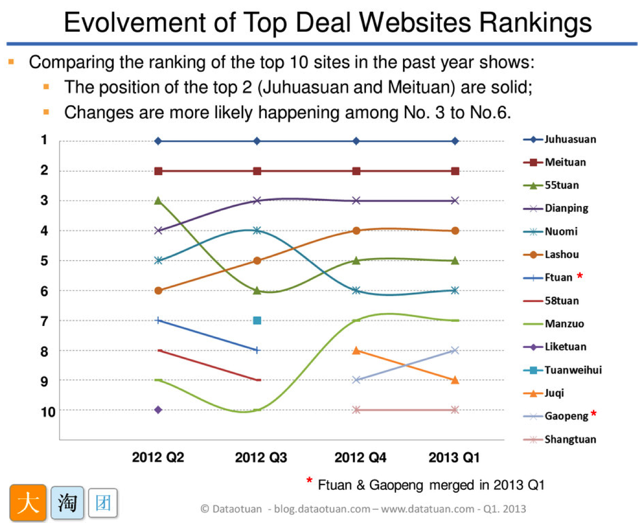 If you look only at local deals – for things like restaurants and entertainment – the market share pie looks very different. That's because Alibaba's Juhuasuan focuses largely on product deals. Here's the scene for local deals: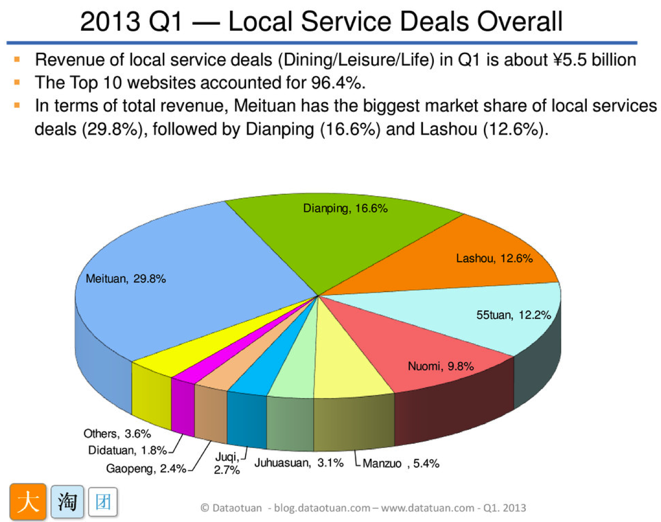 See all the new figures in Dataotuan's full presentation deck, embedded here:
(Source: Dataotuan)