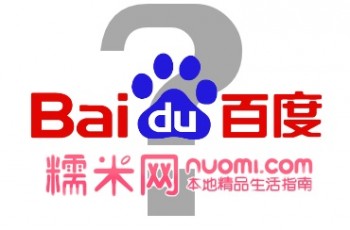 After rumors had been cropping up for some time, Chinese search giant Baidu finally confirmed its investment of $160 million in Renren group buy subsidiary Nuomi. Baidu now owns a controlling stake (59 percent) of the company, or at least it will when the deal is finalized later this year.
But why invest in Nuomi? The company has been losing money virtually since its inception, has become a bit of an albatross for Renren, and controls just over 5 percent of the group buying market, according to the latest numbers we've seen. It certainly doesn't seem like the same kind of slam-dunk as the 91 Wireless deal (although of course the Nuomi deal cost a lot less than 91 Wireless).
So what gives? In a word, e-commerce. Baidu has its own group buying platform, but it's way smaller than Nuomi, and with its biggest competitors Tencent and Alibaba already established (the latter) or making significant inroads (the former) in e-commerce, Baidu likely doesn't want to get left behind. And while I've been writing doom-and-gloom pieces about China's group buying industry more or less since the beginning, the herd has thinned enough now that the top five or ten competitors might be able to make a go of it.
Why didn't Baidu invest in someone higher on the food chain? It likely wasn't able to. Rumor had it that the company was interested in Dianping but was rebuffed, and the industry's top player Juhuasuan is owned by Alibaba. Alibaba has also invested in 2nd-place group buying site Meituan. That just leaves Lashou and 55tuan ahead of Nuomi, and both are close enough that, especially given the variances is market share data depending on how it's measured, there may not really be much of a difference between them and Nuomi. Baidu has invested in one of the best options available to it.
Another reason is location data, though. Why invest in a group buying site instead of a traditional e-commerce outfit? Because the group buying site has local operations across China, likely with all kinds of information that can be implemented into platforms like Baidu Maps. Imagine, for example, logging into the mapping application to check out how to get somewhere and seeing the kinds of deals you can get along the way highlighted right on the map? That's the sort of thing Baidu is likely interested in.
But my guess is that that is just the tip of the iceberg. There will be other — ugh — synergies that come as a result of this union; we'll just have to wait and see what they are.